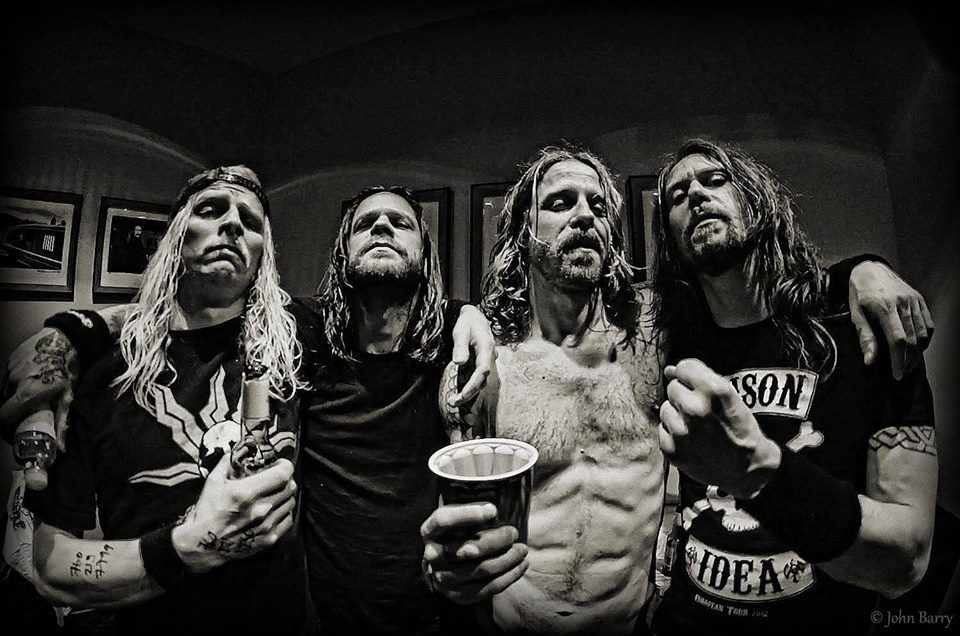 Swedish powerhouse BOMBUS is joining forces with Amercian heavyweights MONSTER MAGNET to spread some massive riffs over Europe in February 2015.
Check out BOMBUS' latest music video "Let Her Die" from the current album "The Poet And The Parrot" at the link below. The video was produced by their former bass player Ulf Linden who created the cover artwork as well as the first two videos for "Apparatus" and "Enter The Night". The video will blow your mind – it's a satanic drug thing you wouldn't understand!
BOMBUS "The Poet And The Parrot" press quotes:
"This is one of the best Swedish albums I've heard in years…" – Kristian Bågefeldt, Close-Up (Sweden)
"What we get is a drunken swirl of Motorhead and old Turbonegro riffs, but they're capable of much more: Traces of Baroness and Kvelertak flit around the edges, adding weight and import while gang vocals keep fists raised and hearts alight." Stereogum.com (USA)
"An extremely pissed off ride on a Rat Bike through the rotten 'Mad Max'-moderate end scenarios, where mechanically cold aggressiveness hits the groovy roots of rock and roll, punk and metal"
Rock Hard (Germany)
"If Motorhead had a rocking child with Entombed and Venom – it would sound like Bombus"
Metal Hammer (Germany)
BOMBUS supporting MONSTER MAGNET
02. 02.2015 Les Docks, Lausanne, Switzerland
03. 02.2015 Batschkapp, Frankfurt, Germany
04. 02.2015 Backstage Werk, Munich, Germany
06. 02.2015 Szene Wien, Vienna, Austria
07. 02.2015 KUFA, Lyss, Switzerland
08. 02.2015 Turbinenhalle, Oberhausen, Germany
10. 02.2015 Burgerweeshuis, Deventer, Holland
12. 02.2015 Trix, Antwerp, Belgium
13. 02.2015 Rock City, Nottingham, UK
14. 02.2015 Garage, Glasgow, UK
15. 02.2015 Electric Ballroom, London, UK
17. 02.2015 Garage, Saarbruecken ,Germany
18. 02.2015 Effenaar, Eindhoven, Holland
20. 02.2015 Voxhall, Aarhus, Denmark
22. 02.2015 Parkteateret, Oslo, Norway
23. 02.2015 Folken, Stavanger, Norway
25. 02.2015 Schlachthof, Bremen, Germany
26. 02.2015 Capitol halfhouse, Hannover, Germany
27. 02.2015 Reithalle, Dresden, Germany
28.02.2015 Scumbash, Rotterdam, The Netherlands
More BOMBUS live in 2015
25.06.2015 Tuska Open Air, Helsinki, Finland
03.07.2015 Siestafestivalen, Hassleholm, Sweden
#####
Support your favorite magazine by donation to cover some webhosting expenses - that will be more than appreciated!
Latest posts by Oleks Antichrist
(see all)