Antichrist metalzine XV anniversary T-Shirt! -
check here
.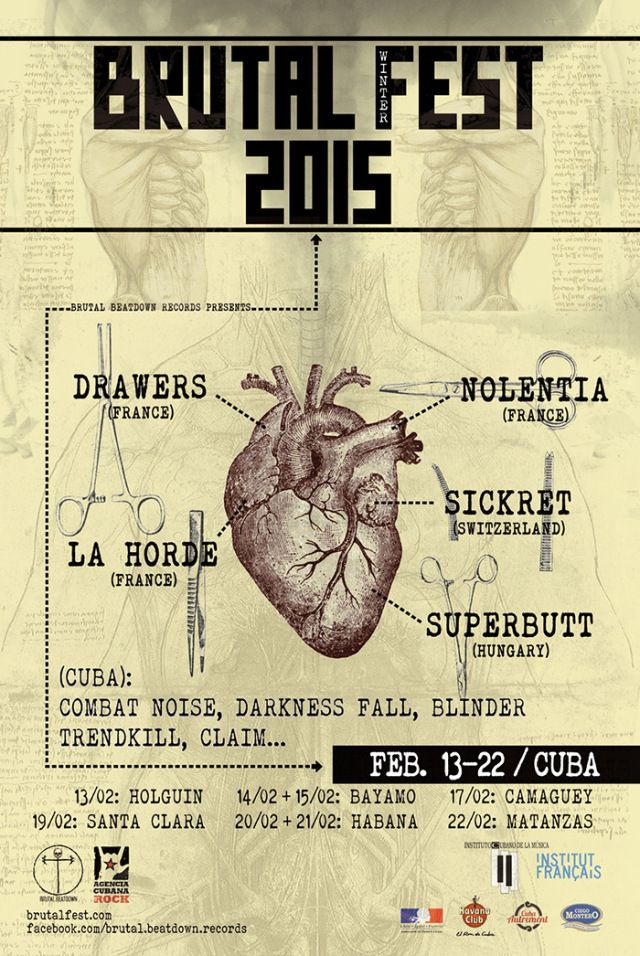 DRAWERS and NOLENTIA, will tour Cuba in February. Part of the ongoing Brutal Fest bi-annual tour series, the tour will bring five international bands (also including LA HORE, SICKRET and SUPERBUTT) to Cuba in February where they'll play a series of gigs around the country along with local acts (Combat Noise, Darkness Fall, Blinder, Trendkill, Claim…). Check out the Brutal Fest Tour Trailer here:
DRAWERS are touring in support of their 2014 self-titled second full-length album and NOLENTIA in support of their 2013 sophomore release May the Hand that Holds the Match that Will Set this World on Fire Be Blessed above All.
Tour Dates
Feb.13 – Holguin
Feb.14 – Bayamo
Feb.15 – Bayamo
Feb.17 – Camaguey
Feb.19 – Santa Clara
Feb.20 – Habana
Feb.21 – Habana
Feb.22 – Matanzas
Click here to view NOLENTIA's official video for "On this Side of the Grave"
and here for DRAWER's official video for "Shadow Dancers."
https://www.facebook.com/drawerskvlt
https://www.facebook.com/NolentiaNoise
---
If you would like to support Antichrist magazine by donation to cover some hosting expenses - that will be more than appreciated!
Latest posts by Oleks Antichrist
(see all)