Antichrist metalzine XV anniversary T-Shirt! -
check here
.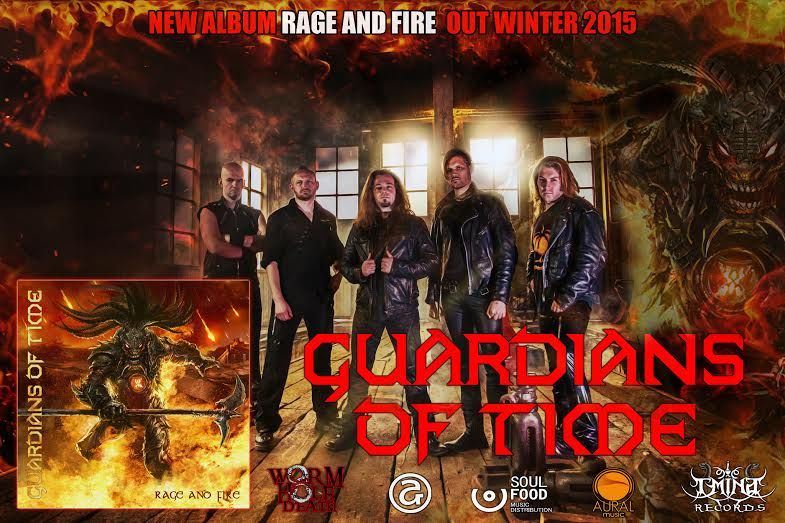 Norwegian Heavy Metal veterans Guardians Of Time signed a deal with both Worm Hole Death Records and Tmina Records for the release of their "Rage and Fire" album. Guardians Of Time stated: "Guardians Of Time are excited to announce that our new album "Rage and Fire" will be released in both Western and Eastern territories on Wormholedeath and Tmina Records early 2015. The album will be distributed by Aural Music. "Rage and Fire" consists of 10 songs of metal. Fast, loud and heavy. If you are a fan of screaming vocals, blasting drums and double neverending guitar solos you sure don't wanna miss out on this one! The album is mixed and mastered by Fredrik Nordström and Henrik Udd at Studio Fredman (Dimmu Borgir, Hammerfall, In Flames, Opeth, Soilwork etc etc). The cover artwork is done by Carlos Cabrera." Worm Hole Death Records stated: "I am absolutely proud to be part of this. Cooperating with our brothers at Tmina Records through their bands is always great and exciting. Guardians of Time are an awesome metal band and we are more than happy to support them and their new album. I am sure that this cooperation will lead us all to great results and I would like the guys for believing in us… We will do everything possible to support them! Now, let's stop talking and listen to their music, they deserve it!"
Tmina Records stated: "Since Tmina Records was born we hardly awaited our chance to sign some serious Heavy Metal band. Heavy Metal in it's original form with crushing riffs and highlight melodies. After so many years our quest is over and we couldn't get better example of what we wanted but Guardians Of Time! After 3 studio albums, thousands of touring kilometers Guardians are back with the new brutal recording that will definitely show to all that real Heavy Metal is still alive and strong. Prepare yourselves for Rage And Fire! "
www.facebook.com/pages/GUARDIANS-OF-TIME/116430181702253?sk=timeline
#####
Support your favorite magazine by donation to cover some webhosting expenses - that will be more than appreciated!
Latest posts by Oleks Antichrist
(see all)