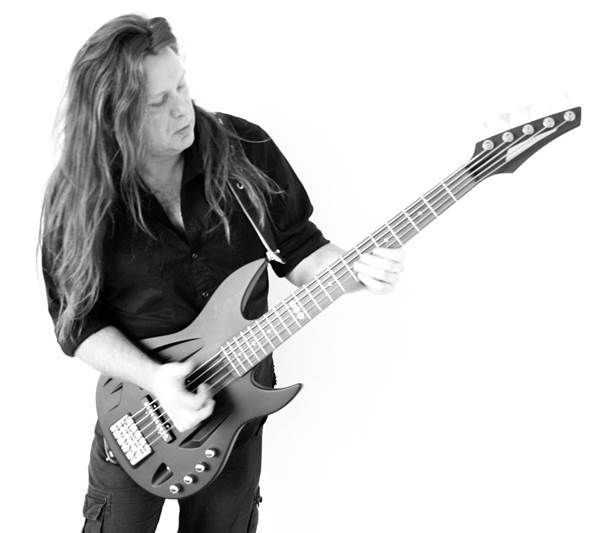 In the course of his career he had played over 4.000 shows and recorded over 60 albums. He worked together with musicians like Adrian Vandenberg (WHITESKNAKE), Zakk Wylde (OZZY OSBOURNE) and Atma Anur (JOURNEY). In 2004 he has been voted as best metal and allround bass player by Guitar Player magazine.
His name is Barend Courbois, and he is the new bass player of BLIND GUARDIAN – out on January 30, fans will be able to enjoy his skills on the new BLIND GUARDIAN album "Beyond The Red Mirror".
"This was the longest production I have ever been involved in", the Dutch musician explains. "As we all know, the recordings took a total of two years. The music is so versatile, which is just what makes the style of BLIND GUARDIAN so unique."
Regarding his own style, Courbois is quite confident: "I play in a very powerful, but also melodic way," he explains. "You could compare me to John Deacon. Something that QUEEN-fans Hansi Kürsch and Gitarrist André Olbrich really like."
Frontman Hansi Kürsch confirms: "Barend is top. He is the ideal bass player for us and has a lot of musical understanding. He is variable and multifaceted, but still able to create all the power we need. And the fact that Krefeld is so close to the Dutch border makes our liaison really easy."
Music has always been in Barend's (who studied bass at Lyceum in Arnhem) blood. His father Pierre (74) is a world-famous jazz drummer and still performing on stage and had played alongside superstars like Jean-Luc Ponty and Ben Webster. At the age of four Barend started playing drums himself, at age eight he first picked up the bass and for quite a while enjoyed bagpipes as well. No wonder he feels right at home everywhere from rock and metal to jazz and funk.
The way he got in touch with BLIND GUARDIAN is not as spectacular as one might think. "One day I got an unexpected phone call from producer Charlie Bauerfeind, whom I had met at a project we both were involved in the early 90s," the bass player recalls. "He asked me, if I was available during the next six months, to tour with a major metal band. He wouldn´t tell me the band´s name at first though."
Just one day after agreeing to this new engagement, Barend Courbois met BLIND GUARDIAN in Krefeld, only to find himself on tour two weeks later. "I was a total wreck before my first gig: It's a real challenge to play BLIND GUARDIAN songs, but I love it!"
BLIND GUARDIAN will release their highly-anticipated tenth studio release, »Beyond The Red Mirror« on January 30th in Europe, February 2nd in the UK and February 3rd, 2015 in North America.
#####
If you really would like to support Antichrist, you can just Share our article.
You can also support Antichrist by sending a couple bucks to cover some webhosting expenses. =>>
PayPal