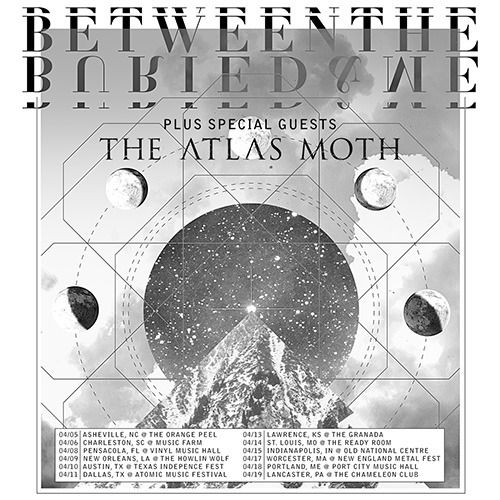 By the time fans in the United States see Between the Buried and Me live this April, they will have completed their brand new album. The album will see a release later this summer, but fans will be able to experience the band live beginning April 5 in Asheville, NC at The Orange Peel through April 19 in Lancaster, PA at The Chameleon. The tour includes appearances at New England Metal and Hardcore Festival and Texas Independence Fest. Joining Between the Buried and Me on this tour will be Chicago, IL's The Atlas Moth. The confirmed list of dates are below, as well as on betweentheburiedandme.com.
BETWEEN THE BURIED AND ME
02/19 – Monterrey, MX – La Escena
02/20 – Guadalajara, MX – C3 Stage
02/21 – Mexico City, MX – Lunario
Tour w/ The Atlas Moth
04/05 – Asheville, NC – The Orange Peel
04/06 – Charleston, SC – Music Farm
04/08 – Pensacola, FL – Vinyl Music Hall
04/09 – New Orleans, LA – The Howlin Wolf
04/10 – Austin, TX – Texas Independence Fest
04/11 – Dallas, TX – Atomic Music Festival
04/13 – Lawrence, KS – The Granada
04/14 – St Louis, MO – The Ready Room
04/15 – Indianapolis, IN – Deluxe @ Old National Centre
04/17 – Worcester, MA – New England Metal & Hardcore Festival
04/18 – Portland, ME – Port City Music Hall
04/19 – Lancaster, PA – Chameleon Club
End Tour
06/11-14 – Manchester, TN – Bonnaroo Music and Arts festival
Between the Buried and Me released "Future Sequence: Live at the Fidelitorium" their first ever blu ray video on September 30th, 2014, via Metal Blade Records. The feature length studio performance with behind the scenes and interviews debuted at #2 on the Billboard Top Music Videos chart, besting new releases from both Dream Theater and YES. The video is also available on DVD and via digital retailers. Upon its release in 2012,"The Parallax II: Future Sequence" became the band's highest Billboard Top 200 chart debut of their career at #22.
http://www.facebook.com/BTBAMofficial
#####
If you really would like to support Antichrist, you can just Share our article.
You can also support Antichrist by sending a couple bucks to cover some webhosting expenses. =>>
PayPal