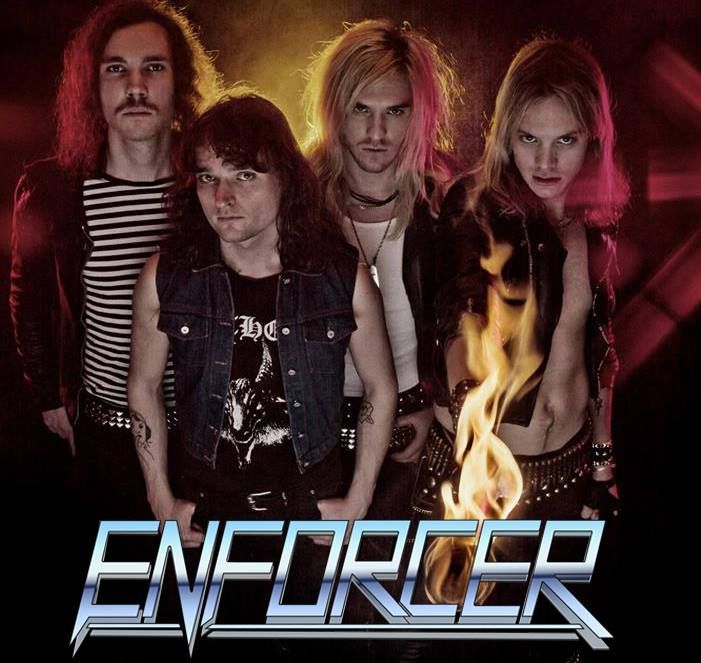 Swedish Heavy Metal act ENFORCER has finished the recordings of their upcoming new album, called "From Beyond". This fourth ENFORCER record will contain ten new songs, produced, mixed and mastered by the band members Olof and Jonas Wikstrand. The album will be out on February 27th (EU), March 2nd (UK) and March 10th (US). Pre-sales start today.
Vocalist and guitar player Olof Wikstrand comments: ""From Beyond" is faster, heavier, louder, darker and more viscous all at the same time without loosing a tiny bit of what ENFORCER stand for. A fist in the face of all current trends and a stake through the throat of modernity. Total metal!"
"From Beyond" will be released on a limited edition digipak, as well as on gatefold vinyl in different colors.
01. Destroyer
02. Undying Evil
03. From Beyond
04. One With Fire
05. Below The Slumber
06. Hungry They Will Come
07. The Banshee
08. Farewell
09. Hell Will Follow
10. Mask Of Red Death
Every sound wave you hear on "From Beyond" is 100% ENFORCER.
https://www.facebook.com/enforcerofficial
Sponsors:
[AdSense-A]
#####
We run magazine with no ads. If you really would like to support Antichrist, you can just Share our article.
You can also support Antichrist by sending a couple bucks to cover some webhosting expenses.
[ad 1]