Moribund Records announces March 31st as the release date for Where Evil Follows' highly anticipated debut album, Portable Darkness. Where Evil Follows is the latest diabolical creation of underground legend/guitar genius Toby Knapp (Onward, Waxen). In contrast to Knapp's latest Waxen album, which indulges his blackest metal tendencies, Where Evil Follows returns the six-string sorcerer to his '80s speed metal roots. However, Portable Darkness is far more than some trendy "retro" retread, as Knapp and vocalist/bassist Dean Sternberg (Ashes of Ares, ex-Into Eternity) take these winding-yet-headbanging anthems down far darker and more potently evil paths, turbo-charged with no small amount of power metal. In many ways, the album is the sinister counterpart to Onward, Knapp's most celebrated band. Set on those paths and see Where Evil Follows… Cover and tracklisting are as follows: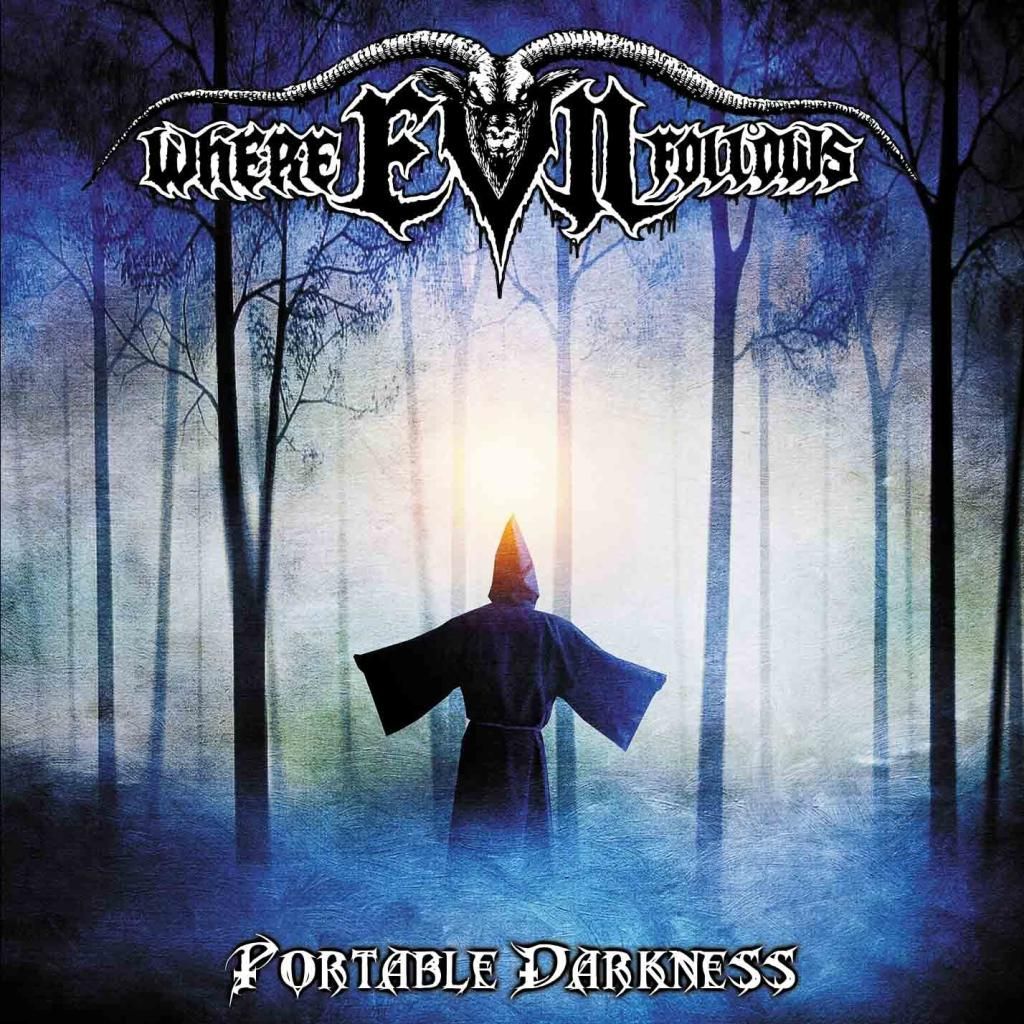 Tracklisting for Where Evil Follows' Portable Darkness
1. Reborn (4:09)
2. They Came For Us (4:36)
3. Symbiotic (3:24)
4. Lifting The Veil (4:44)
5. A World Away (3:45)
6. Oppressive Grey (5:08)
7. Disturbing The Priest (4:59)
8. Portable Darkness (4:03)
Where Evil Follows' debut album, Portable Darkness features the incredible talents of multi-instrumentalist Dean Sternberg. Dean handles soaring yet aggressive vocals and brings his bass-playing talents to the band. Dean is currently the touring bassist and back-up vocalist for ex-Iced Earth singer Matt Barlow's new band, Ashes of Ares. Earlier, Dean was chosen for touring vocalist position in Into Eternity and toured the globe extensively. Guitarist Toby Knapp is the musical mastermind of Where Evil Follows, taking his diabolical visions back into the realm of dark and furious heavy metal with a hefty nod towards '80s speed metal. Knapp's underground fanbase have enjoyed his tenures with Moribund Records recording artists Waxen, Godless Rising, and as a solo album instrumentalist starting with Shrapnel Records two decades ago, but perhaps it's the Onward fans that await this album most, as Knapp returns to what he arguably does best: straight-up heavy metal with virtuostic guitar passages combined with an intelligently soaring and melodic vocalist to bring his music to full fruition.
In 2012, the original vocalist of Knapp's long broken-up band Onward, Michael Grant, tragically passed away too soon. Knapp announced to the press that he would never again operate in a traditional metal context under the name Onward, leaving the band's legacy intact. But as with Heaven and Hell being the other "Black Sabbath" and Masters of Metal being the other "Agent Steel," Where Evil Follows picks up where Onward left off musically. If ever there was a continuation of the Onward story, Where Evil Follows is it, the name being taken from an Onward song Knapp requested the late Grant to write and which Knapp also contributed lyrics to. The first initial hearings of Where Evil FollowsPortable Darkness debut stirred the metallic souls of the Moribund Cult right after the label released Knapp's black metal project, Waxen's Agios Holokauston. In addition to finding a home with Moribund Records, Where Evil Follows' unrelenting old-school heavy metal approach brought in Germany's Pure Steel Records shortly after they released Onward's Century Media catalog on vinyl, creating a first-of-its-kind merger between the elite darkness of Moribund Records and the power metal purity of Pure Steel Records, who will be releasing the album on vinyl.
Sponsors:
[AdSense-A]
#####
If you really would like to support Antichrist, you can just Share our article.
You can also support Antichrist by sending a couple bucks to cover some webhosting expenses. =>>
PayPal
[ad 1]