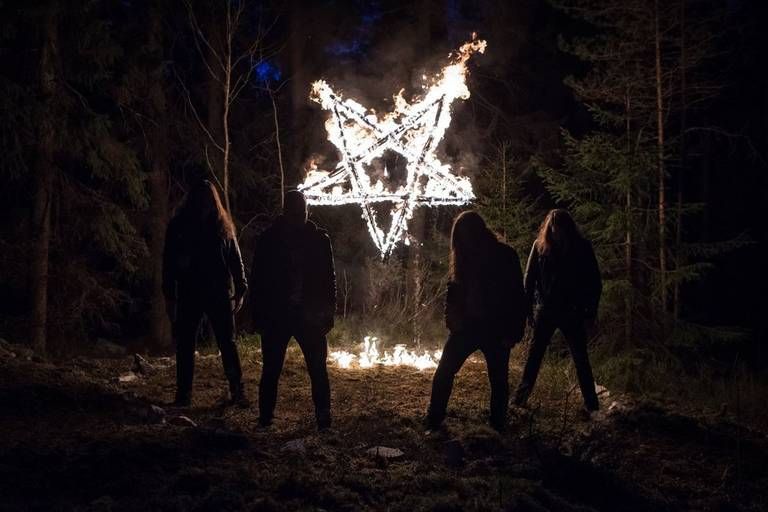 Death metal alchemists Execration stream the entirety of their forthcoming Morbid Dimensions – set for North American release on December 9th via  Hells Headbangers (Duplicate Records will be handling the European release) – at heavily trafficked tastemakers Noisey – Music By Vice. Or right here:
One of death metal's best-kept secrets, Norway's Execration trike with their deadliest and most daring album yet, Morbid Dimensions. Ever aptly titled, Morbid Dimensions is a twisting and twisted slab of miasmic, morbid Metal of Death. The listener is kept on edge the entire time, in a state of perpetual tension, as the quartet deftly slide through sinewy, sometimes-slimy riff and rhythm structures, all executed with stunning tightness yet also a sense of hysteric dangerousness. In many ways, Execration's third album is an album of contrasts: death metal in its purest state, but with a view toward experimentation; doomy and atmospheric at will, but with a forward propulsion that's palpitating; a well-grounded set of old-school influences, particularly homeland heroes Cadaver, but without the slightest whiff of "retro" pandering. All told, Morbid Dimensions is the sound of a still young 'n' hungry band carving out their own niche, and with absolute cunning and confidence. A "best-kept secret" no longer – behold the rise of Execration exclusively HERE, courtesy of Noisey – Music By Vice. Cover and tracklisting are as follows:
#####
If you really would like to support Antichrist, you can just Share our article.
You can also support Antichrist by sending a couple bucks to cover some webhosting expenses. =>>
PayPal
Tracklisting for Execration (Norway)'s Morbid Dimensions
1. Cosmic Mausoleum
2. Ritual Hypnosis
3. Doppelgangers
4. Morbid Dimensions
5. Tribulation Shackles
6. Vestiges
7. Ancient Tongue
8. Miasmal Sabbath
9. Funeral Procession