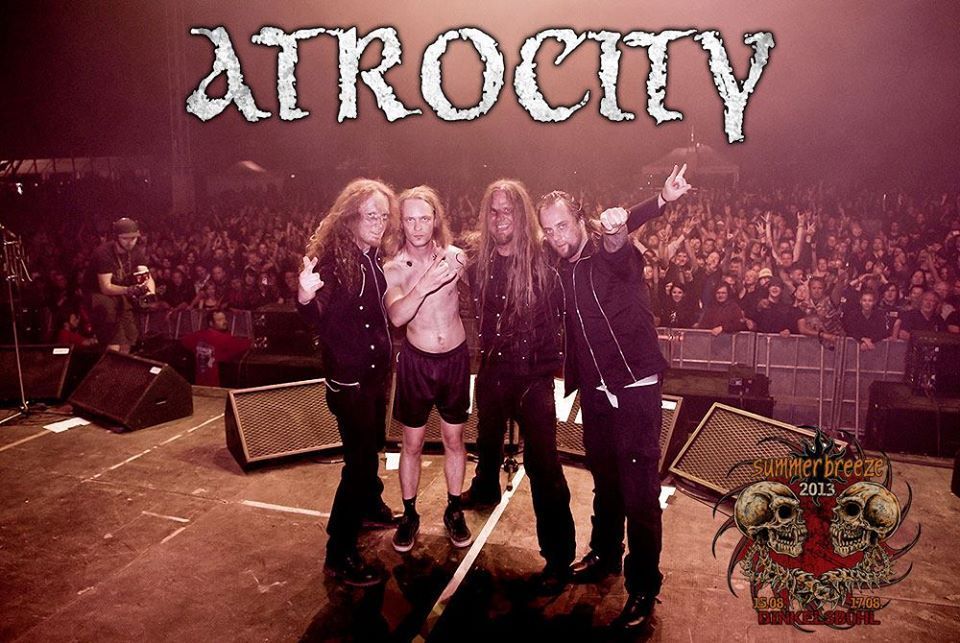 ATROCITY has just returned from their shows in Spain! Supporting their latest album "Okkult" the band toured through Europe, North America, the Caribbean and Asia. Pretty much anywhere you can think of, ATROCITY played there!
As a big surprise and first metal band ever on both shows, ATROCITY & Liv Kristine performed at the two big German prime time TV shows ARD – "Das große Fest der Besten" (Annual Schlager Music award TV show) and RTL "Die 2 – Gottschalk & Jauch gegen alle" together with Germany's biggest "Schlager music" star Heino, who released a Metal and Rock Remix album recently. More than twelve million viewers watched the two TV shows. Some "Schlager music" artists called a boycott against the "metal" performance from the beginning; however, the producers of "Das große Fest der Besten" decided to invite Heino and the metal musicians despite the protest.
ATROCITY singer Alex Krull states:
"We had a lot of fun at both of the TV shows. At least every one we met from the world of "Schlager music" was really nice and very respectful to us. No doubt, it's certainly a complete different (musical) world. Some people were quite shocked that something like this "could happen" at such a big TV event and that we were even doing this. But a boycott, really? Come on, people shouldn't take everything too seriously. Besides all that, the massive stage set with tons of pyro effects rocked and we enjoyed performing with Heino, who is over 50 years in business! Even if you don't like the music and some people might think Heino is a controversial artist, show me one established 76-year-old mainstream music star who decides and dares to turn his own hits into rock and metal songs and performing them on stage, too. Heino and his team are very nice people and they work highly professional."
ATROCITY will continue the "OKKULT" World Tour, delivering brutal sets nightly on stage! Soon there will be a new video clip for the song "Death by Metal" released! Until then, enjoy the video for "Pandæmonium" here!
ATROCITY LIVE
"OKKULT" World Tour 2015
14.05. MEXICO – TBA
16.05. ECUADOR – Quito, Teatro México
17.05. COLOMBIA – Bogota, Ozzy Bar
19.05. PERU – Lima, Discoteca Centrica
20.05. CHILE – Santiago, Rock & Guitarras
22.05. BOLIVIA – Cochabamba, Ex-Carnivale
23.05. BOLIVIA – La Paz, Cinemateca Boliviana
24.05. ARGENTINA – Buenos Aires, The Roxy Live
26.05. URUGUAY – Montevideo, BJ Sala
13.06. DE – Chronical Moshers Open Air
14.08. SWE – Rockstad Falun Sabaton Open Air
https://www.facebook.com/AtrocityOfficial
#####
If you really would like to support Antichrist, you can just Share our article.
You can also support Antichrist by sending a couple bucks to cover some webhosting expenses. =>>
PayPal