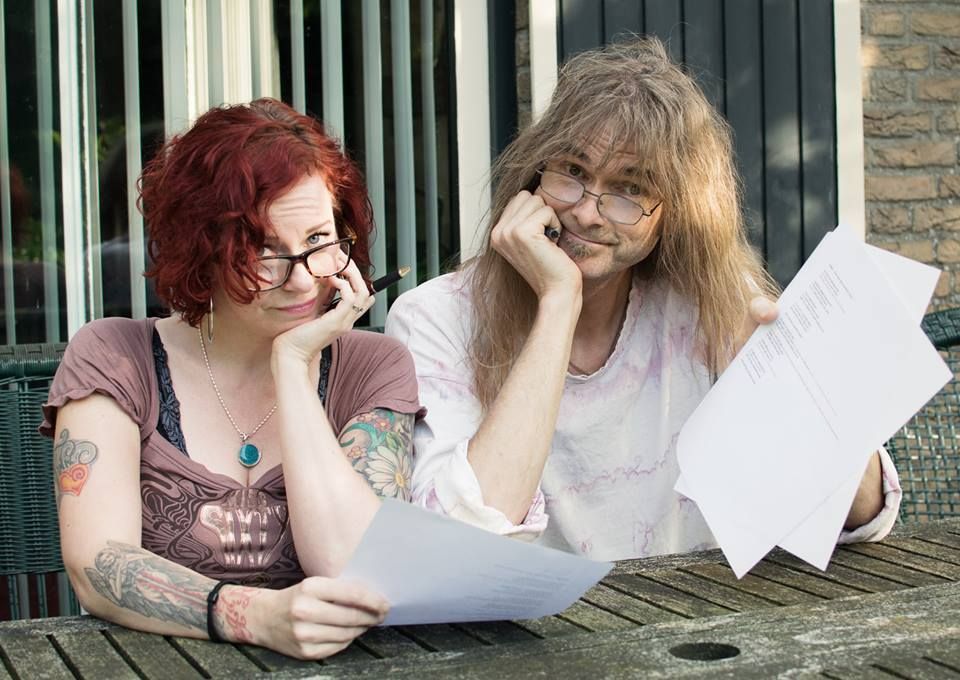 Arjen Lucassen (Ayreon, Star One, Guilt Machine) & Anneke van Giersbergen (The Gathering, Devin Townsend Project) are set to release the debut album 'The Diary' from their new band The Gentle Storm on the 23rd March 2015, and in the lead up they have been posting some revealing behind the scenes videos. The latest one sees Anneke talking about Arjen and the vast array of instruments he plays.
You can watch that here:

A lyric video for the track 'Endless Sea (Storm Version)' was also recently launched and you can see that here:

You can also check out the Gentle version of 'Endless Sea' here:
The album concept is a tale of love, loss, and separation told through the story of two fictional seventeenth-century lovers. A Dutch sailor embarks on a two-year voyage, leaving his wife at home in Holland. The only way for the couple to communicate and keep their love alive during the long separation is through letters. These letters form the basis for the songs on the album.
They are also pleased to announce that in advance of The Gentle Storm full band shows, Arjen will join Anneke for a select few European live acoustic dates in what will be quite a rare and special occasion.
February 17 2015 – Planetarium, Budapest HU
February 18 2015 – Bronx, Istanbul TR
February 19 2015 – Hard Rock Cafe, Bucharest RO
February 20 2015 – Modern Theatre, Sofia BU
February 21 2015 – Traffic Club, Rome
February 22 2015 – K17, Berlin DE
February 23 2015 – Nosturi, Helsinki FI
February 25 2015 – Lo-Fi, Milan IT
February 26 2015 – Locomotive, Bologna IT
February 27 2015 – Hybrydy, Warsaw, PL
February 28 2015 – Blue Note, Poznan PL
As previously mentioned, a full all-star band will go out without Arjen in March and April, and the confirmed dates and band line-up can be found below.
March 26 2015 – Melkweg, Amsterdam NL
March 28 2015 – ROCK ITtervoort Festival, Ittervoort NL
April 03 2015 – Hedon, Zwolle NL
April 03-05 2015 – Paaspop, Schijndel NL
April 11 2015 – Paard van Troje, Den Haag NL
April 15 2015 – Colos-Saal, Aschaffenburg DE
April 16 2015 – Zentrum Altenberg, Oberhausen DE
April 22 2015 – Divan Du Monde, Paris FR
April 23 2015 – The Garage, London UK
April 24 2015 – The Musician, Leicester UK
April 25 2015 – The Roadhouse, Manchester UK
April 26 2015 – Prog-résiste Convention, Soignies BE
June 19 2015 – Dokk'em Open Air, Dokkum NL
July 09 2015 – Masters of Rock, Vizovice CZ
July 17-19 2015 – Night of the Prog Festival, Loreley DE
July 30-Aug 01 – Wacken Open Air, Wacken DE
The Gentle Storm live:
Anneke van Giersbergen (ex-The Gathering) – vocals
Merel Bechtold (Purest of Pain, MaYaN) – guitars
Ferry Duijsens (Anneke van Giersbergen, ex-Dreadlock Pussy) – guitars
Ed Warby (Hail of Bullets, Ayreon, ex-Gorefest) – drums
Johan van Stratum (Stream of Passion) – bass
Joost van den Broek (producer, ex-After Forever) – keyboards
Marcela Bovio (Stream of Passion) – background vocals
THE GENTLE STORM online:
www.facebook.com/TheGentleStorm
#####
If you really would like to support Antichrist, you can just Share our article.
You can also support Antichrist by sending a couple bucks to cover some webhosting expenses.