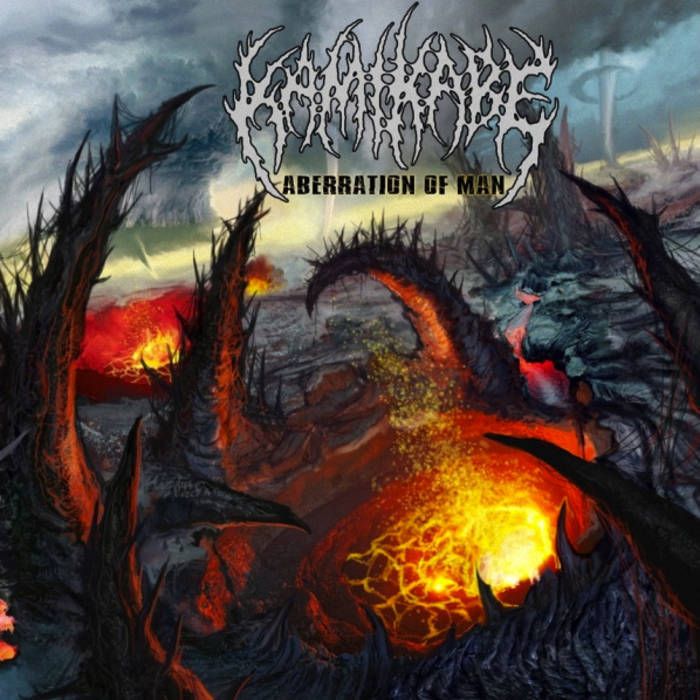 Kamikabe "Aberration Of Man"
Unique Leader Records
What the hell does Kamikabe means? It kind of sounds Japanese or is it a fusion of two words? But one thing I know for sure is that Kamikabe is a brutal death metal band from Pittsburgh, Pennsylvania. "Aberration Of Man" is their debut album which is release on the awesome label Unique Leader Records. The structures of the songs have some technicality to it but mostly it is straight in your face brutal death that will crush your insides and leave you numb for hours. What I love about the album is that a song may begin brutal or slow and suddenly the song spins out of control and becomes insanely brutal with riffs and vicious double-bass exploding everywhere. The tempo changes during the songs are unpredictable with blistering results. "Aberration Of Man" is about 34 minutes long and I am very happy that Kamikabe included a nice instrumental aptly named "Interlude" in the middle of the album so that I can catch my breath otherwise I would suffocate within this brutality. One thing that is remarkable about this album is the drumming of BJ Sarnese who does some nice fills with out of this world double-bass grinding. Matt Grossi vocals are so brutal that hair will grow on your chest. "The Rot" has some really savage breakdowns and the song "Sufferer" gets really brutal with a nice alien like solo. "The Process Within" immediately begins brutally shredding. "Nefarious" begins with a blast and gets sicker and sicker with a nice riff worked through the song.  I didn't expect this album to blow me away, but because it was released on Unique Leader Records  I  bought it immediately  and I am glad I did. Unique Leader Records always has great bands and Kamikabe is no different. Metalheads that are into brutal stuff, like me should definitely check this one out!!!
87/100
(c) Rottendamned
#####
If you really would like to support Antichrist, you can just Share our article.
You can also support Antichrist by sending a couple bucks to cover some webhosting expenses.