qip "On Ephemeral Substrates"
Arachnophobia Records
This autumn debut album On Ephemeral Substrates was released by qip, Maciek Pasinski's solo project, former member of Polish bands Sirrah and TheMANcalledTEA.
Adorably picked samples and effects, contrasts and incredible combinations, that's one of the best examples for experimenting with styles and how is eclectics should be. The author himself called this mix of black, death, industrial, post-rock and «atmospheric» prefix – «cinematic industrial death metal».
Each song is particular masterpiece and the whole world. It develops with in the most unexpected way and surely would not be boring, because there are so much different, abstract but accurately tracked stitches  in a musical canvas. At the same time this album is surprisingly holistic with compositions that flowing one into another smoothly.
"Industrial Espionage" is a peaceful sea and terrible fire, tender intro and outro with hellish destroying aggression, synthetic keyboards sounds and evil extreme vocals that goes to crushing blast beats and typical post-rock, dance or even oriental passages of "a Mortal Nuance  of Coding  Stealth".
Contrast rhythmical pattern, sudden guitars, thrilling theme with organically woven blast beats and simple, interesting motive, develop of nearly meditative at the beginning and so thrilling "Millennium Way" dissolves into madly atmospheric and darkly exalted "Discarded Specimens", as strange but ideal balance between post-rock and black/death.
More gloomy, slow and viscous "Payback Ritual" with gorgeous drums and less effects, which continues with restrain aggressive "Нumanity+" with great solo and guitar parties.
Calm at the start with growing excitement and a blast in the end, three-quarter instrumental "Ergoregion" with some very unexpected tunes, that turns into aggressive and dynamical "Teller-Ulam Configuration" and the ending "This place is a Tomb" with blood freezing atmosphere (in the end of an album Maciek Pasinski use the mix of elements less, but it doesn't make songs less impressive). As a result, the album can be listened in one breath.
Well, I can personally name the qip project best experimentalist and atmosphere maker, that I heard in this year.
#####
Support your favorite magazine by donation to cover some webhosting expenses - that will be more than appreciated!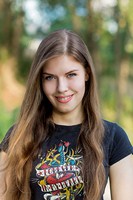 Latest posts by Natalia Dmytruk
(see all)