Please introduce yourself.
Greetings, good to speak with you all. My name is Corey, the vocalist for Serapheum. Serapheum is a fast-paced Blackened Death Metal Band hailing from Virginia and Maryland, USA.
When your band was created?
Our band started about 4 years ago. Within our first couple years, we released our self-titled ep, Serapheum. We've gone through several changes since then, but are still making heavy, dark metal.
What the style do you play?
There is a little dispute over whether our music is rooted in Death Metal or Black Metal, being the case, we've chosen to identify as Blackened Death Metal. We think listeners would agree that we fit that bill well.
How could you describe your music by several words?
Serapheum is interested in things unseen. Our music is practiced, with trilling guitars, shrieking vocals, and heavy drums. We try our best to create an atmosphere of obscurity and intrigue, while staying true to the themes of Death and Black Metal.
What is the main theme of your lyrics?
Things unseen. The Cosmos. The underlying great evils that lay in wait. Our lyrics parallel many of the themes of Lovecraft, and are built on the ideas of ancient beliefs, strange origins, and an uncertain future. There are other themes as well, written by our guitarist, Nick. If we think of something terrifying, we try to incorporate that in our lyrics, and match those to our music.
What would you like to achieve with the band activity?
We simply want people to listen to our music, and enjoy what they hear. Serapheum has no agenda other than creating what we consider to be good art. Listen, enjoy, and draw your own conclusions.
How many gigs you have played so far and maybe you visit another countries with concerts?
We have yet to perform a proper tour. Unfortunatley, few people outside the MD/VA area are familiar with us. We hope to change that with our newest line-up. We have plans for upcoming gigs. Those will be announced as soon as we have finalized the information.
Is there anything very important about your band what SHOULD know fans and labels?
People should know we are dedicated, and despite our slow beginings, we have re-built and continued working every step of the way. Serapheum is stronger than ever, and more skilled now than our previous release gives us credit for.
What the formats you would like to see your releases, CD, Vinyl, Tape…? And how do you see future of physical releases?
So far, we've only released CD and MP3 copies of our music. This decision was made due to budgeting. However, nothing is out of the question for future releases.
When you will get label deal, would you like to help to the label with promotion from your side, or you want label do all without your help?
We have always done everything by ourselves, down to the CD art. Serapheum is completely self sufficient, but we would greatly appreciate any help a label could give us. That said, we would not stop promoting ourselves, even with the label's help.
What's your reaction towards negative opinions about your music?
So far, we haven't received any negative feedback. Though, there is no band that escapes some negative feedback at some point in their career. I do not mind what people say. If someone is still listening, we'll keep playing for them. Besides, some negative feedback is important; it needs to be considered as critique, and ever artist needs to be open to critique.
And last question, how do you like our webzine, do you have some remarks towards its look or functionality?
It is very easy to navigate, and the layout is nice. I went through and clicked on a bunch of bands, links, videos. Everything seems to be working. The website could use a more modern format, maybe some more interesting color schemes. But that's not even a real issue.
https://www.facebook.com/pages/Serapheum/114680175229631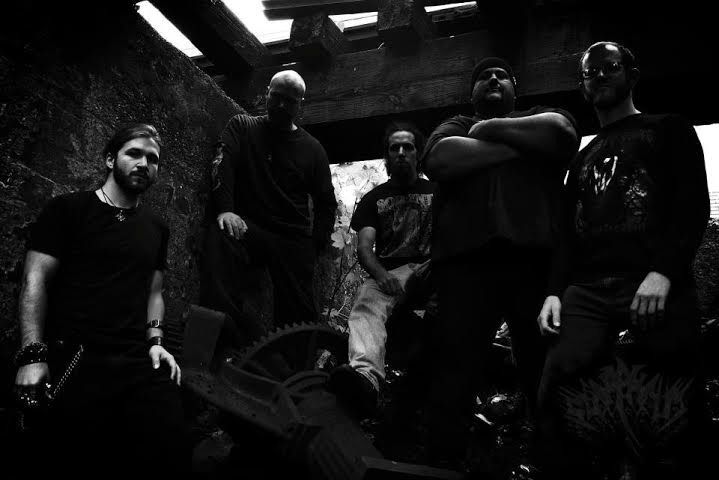 Serapheum is a North American Blackened Death Metal band spawned in 2009 and located in the Virginia/Maryland area. Serapheum's self titled Ep was recorded in 2012. Our lyrical content is influenced by the paranormal, the otherwordly, the supernatural, altered realities, ancient civilizations, abstract horrors, extraterrestrial intelligence as well as Lovecraftian themes all enmeshed within music with a dark atmosphere.
We tell the story of things that should not be.
Influences: Emperor, Incantation, Slayer, Darkthrone, Behemoth, Nightbringer, Dissection, Portal, Cradle of Filth, Zyklon, Death, Nile, Sepultura, Belphegor, Limbonic Art, Morbid Angel, Rise, Nocturnus, Celtic Frost, Wolves In The Throneroom, Obituary, Dimmu Borgir, Satyricon, Dark Funeral, Candlemass.
Previous members: Chris Sebastion-Drums, Joshua Hurley-Bass, Noah Stone – Guitar.
Current members: Corey Matlak-Vocals, Nick Federoff-Guitars, Songwriting, Michael Arcane – Drums.
#####
If you really would like to support Antichrist, you can just Share our article.
You can also support Antichrist by sending a couple bucks to cover some webhosting expenses. =>>
PayPal