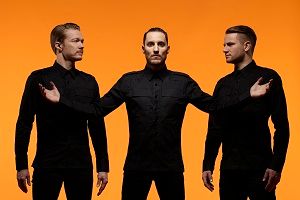 Black Jazz group Shining will join Marty Friedman (ex Megadeth), trash legends Kreator, and melodic death metallers Arch Enemy on an upcoming UK tour in December. Friedman will also use Shining as his backing band during the tour and perform a few surprise collaborations. Shining states that the idea of collaboration came along when Jørgen Munkeby played sax on Marty's latest album.
This is going to be a great show you really don't want to miss out on!
So take a note of these dates:
2014-12-16 – Institute – Birmingham, UK
2014-12-17 – O2 Academy – Bristol, UK
2014-12-18 – The Forum – London, UK
2014-12-19 – Academy – Manchester, UK
2014-12-20 – Academy – Dublin, Ireland
2014-12-21 – QMU – Glasgow, UK
2014-12-22 – O2 Academy – Newcastle, UK
Statements from Munkeby and Friedman:
Friedman "Arch Enemy and Kreator are two of my all-time favorite bands in metal, and after collaborating with Shining on my latest album, I cannot wait to break all sorts of musical rules and boundaries with them live on the same stage. This will be a once in a lifetime collection of unique metal presences."
Munkeby "We're super happy to play these shows with old and new metal gods alike! To add to that, we're even doing a very special and unique set together with Marty Friedman on stage, which will include both Shining and Marty material. Can't wait to be part of such a cool setup! 2014 has been one of Shining's best and most active years so far, and what a grand way to top it off!"
#####
If you really would like to support Antichrist, you can just Share our article.
You can also support Antichrist by sending a couple bucks to cover some webhosting expenses.