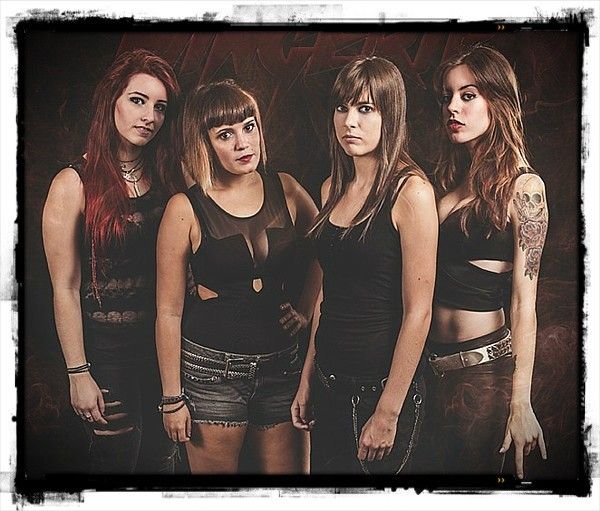 Broken Lingerie is a young female rock band from Madrid formed in 2012 by Raquel Díaz ( Vocals & rhythm guitar ), Sara Pérez (bass & back vocals) Ale Adán (lead guitar & back vocals) and Raquel Palomo (drums & back vocals). At their early stage they began composing their own music and writing their own lyrics, all based on, and fusing, the different musical styles of each member of the band. This created a whole new identity which is an innovation on the current musical scene. During these years that have passed since the band was formed, they have performed live over 30 times all around the centre of Madrid with young local bands in various venues such as "Taboo", "Independence Club", "Siroco", "Wurlitzer Ballroom". They have also played with some recognized musicians such as Jorge Salán in the famous "We Rock Live" venue, with the female rock and roll band "Heavy Tiger" from Sweden, at the end of 2013, with "The Kendolls", a classic rock and roll/hardcore punk swedish band and "Thundermother", another female rock band also from Sweden when they came to Spain. Broken Lingerie have also travelled to Murcia to perform at an nighttime event in the summer of 2012, and they have played in several festivals in the 2014 summer, including the "Harley Days 2014" in Barcelona in front of more than 500 people and the "Surf, Music & Friends Fest" in Asturias in front of more than 700 people. The band's first studio album "Lying Words" was released in May of 2014, with 5 of the latest songs from the band and was recorded and mastered at "Dirty Chords" studio by Jesús Gascón Santana.
For more infos on BROKEN LINGERIE, click HERE!
#####
If you really would like to support Antichrist, you can just Share our article.
You can also support Antichrist by sending a couple bucks to cover some webhosting expenses. =>>
PayPal