Hells Headbangers is proud to present the debut of a doom-death juggernaut whose name will surely be on everyone's tongues soon enough: Dwell's Vermin and Ashes, set for international release on February 10th, 2015. Set to be released on both CD and vinyl LP formats via Hells Headbangers, Dwell's Vermin and Ashescompiles the band's demo debut as well as three new songs, making for a full-length release. Hailing from Denmark and boasting a membership with deep veteran status – including current members of Hells Headbangers death-commandosCerekloth – the five-piece Dwell create a tar-thick, ominously bubbling brew on Vermin and Ashes. Their sound is undoubtedly rooted firmly in classic death metal, but their heaving, lumbering thrust is equally grounded in ancient doom metal. Along with half-sorrowful/half-haunting lead lines, well-timed bouts of blasting speed, and the occasional dusting of mystical synth, Dwell'sVermin and Ashes encompasses all that its song titles suggest: among them, "Vermin In  My Arteries," "A Collapse Sublime," "Plunging Into Ash Tombs," and the telltale "Become the Void." Moody yet never totally defeatist, it's a sound that's at once lost to the mists of time yet also surprisingly fresh, for Dwell have few compatriots mining this barren wasteland of doomed-decibel wreckage. Hear the beginning of greatness with Vermin and Ashes, and jump on the Dwell bandwagon before it's too late. Cover and tracklisting are as follows: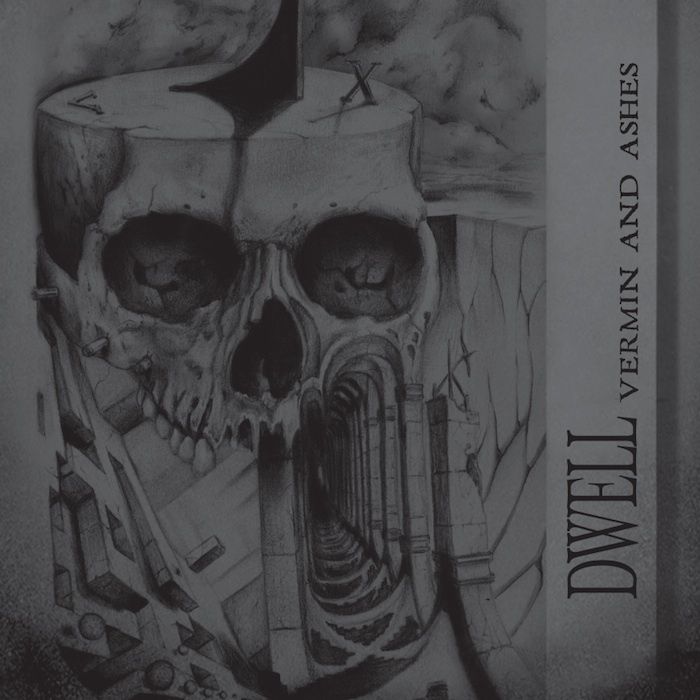 #####
If you really would like to support Antichrist, you can just Share our article.
You can also support Antichrist by sending a couple bucks to cover some webhosting expenses. =>>
PayPal
1. A Collapse Sublime
2. Pathless and Dormant
3. Vermin in My Arteries
4. Plunging into Ash Tombs
5. Become the Void
6. Perditions Mire
Dwell was formed in 2012 by guitarist Allan Brejner Larsen and vocalist Jens Bendtsen Pedersen with the sole intention of releasing personal demons. In 2013, the debut tape Ash Tombs was unleashed via Deadbangers Productions. For this release, old friend J. Raphael (Nocturnal Graves) helped out with session drums and close ally Kenneth Holme contributed with synth and ambient parts. Three new burial hymns were recorded in 2013/2014, utilizing Nis Larsen (Strychnos, ex-Cerekloth) as session drummer. After this recording, Kenneth Holme became a permanent member, as his synth/ambient parts had become an important part of the Dwell sound. In the fall of 2014, a full lineup was summoned, and several releases are in the works. More relevant Dwell news is soon to come.
Jens Bendtsen Pedersen – vocals
Allan Brejner Larsen – guitar
Kenneth Holme – synth and ambience
Andreas Joen – drums
Morten Adsersen – guitar
Quentin Nicollet – bass
DWELL IS THE END OF THE LINE – PERDITION GLORIFIED!