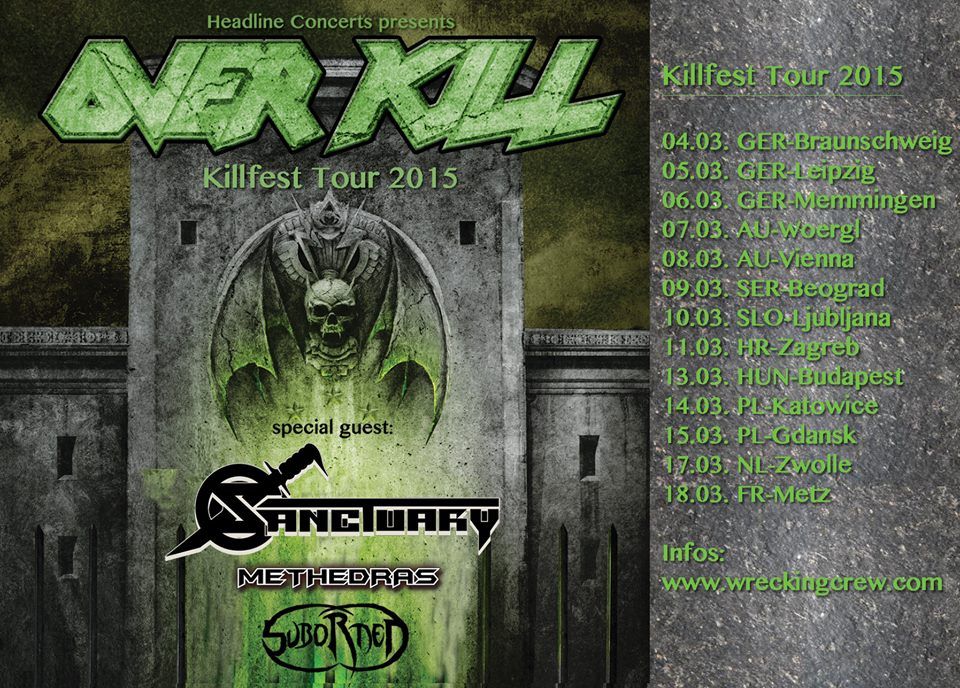 Italian Death Thrashers METHEDRAS have been confirmed as special guests on OVERKILL's Killfest 2015 European Tour in March. Dates for the tour, which also features SANCTUARY, are below.
METHEDRAS released System Subversion on storied American label Pavement Music November 11. A trailer video featuring songs from the album and performance clips can be viewed here. Or right here:
Quintessence of the most direct-in-your-face thrash-death style, Methedras sets among the leading underground Italian bands, a real war-machine which has been able to release a demo and three full-length albums during its 18 years of activity, as well as have performed hundreds of concerts throughout Europe, many of them in support of big names of the international metal scene (Testament, Dismember, Destruction, Exodus, Overkill, Sepultura above the others), without ever losing an ounce of anger and energy.
Quartet formed by Andrea (bass), Claudio (vocals), Eros (guitars) and Daniele (drums), originally near Milan in 1996 with a two-guitar line-up, the band has changed over the years various members preferring a solid line-up with only one guitar, arriving to a proper own style with no compromise: a sort of derived thrash metal (Low/ The Gathering era Testament) spiced with more typical death metal influences (Death, Entombed) and a groove-hardcore approach concerning the vocals (early Machine Head / Pantera).
Previously under the flag of Punishment 18 Records, with the well-reviewed albumKatarsis released worldwide in 2009, the Italian thrashers just finished completing the creation of their last effort, System Subversion, recorded in the beginning of 2014 at the superb Domination Studio, under the guide of the mastermind Simone Mularoni (DGM, Necrodeath, Bulldozer, Vision Divine, The Modern Age Slavery), and to be released on November 11 through Pavement Music.
#####
If you really would like to support Antichrist, you can just Share our article.
You can also support Antichrist by sending a couple bucks to cover some webhosting expenses. =>>
PayPal