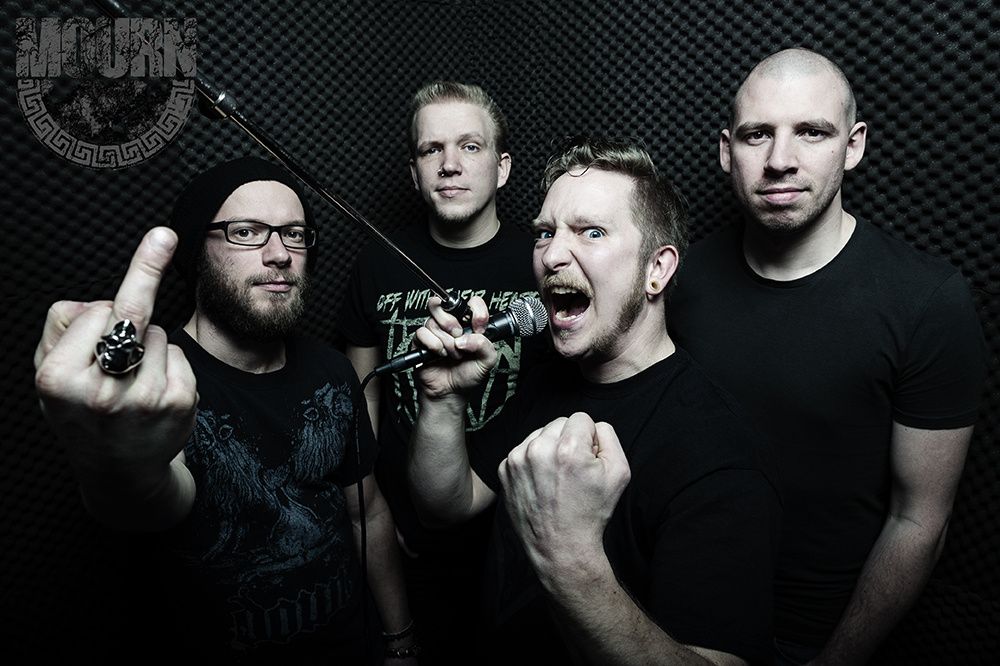 MOURN, HeavyStonerBluesGrooveRockSludgeMetal from The Netherlands.
With members from Exivious, (ex-)Cynic (US), Textures and March, MOURN mixes sludge, stoner, groove and metal. As a counteraction against the supertechnical metalbands of modern day, MOURN gets its inspirations from bands like Down, Pantera, Black Sabbath and Black Label Society. Music that is made to move and groove.
Through the following link you can now listen to the entire EP "The Beaten Path" which was released on September 1st 2014.
For further questions, information or interviews you can contact us through e-mail.
All the best,
MOURN
-Robin Zielhorst
MOURN Biography: 
In late 2013, MOURN decided to bring nothing new. Since everything already had been done before, and everything else wouldn't be worth making, these brave young men decided to do something entirely different: to acknowledge their total lack of cutting edge. Trying not to copy other bands, this band makes a mixture of Metal, Rock and Blues like a lot of other bands before them. Bands you of course have heard of, going from Pantera and Down to Black Sabbath and Black Label Society.
Founding member Robin Zielhorst (ex-Cynic, Ex-Blue Man Group, Exivious), found like minded forces in Thomas Frankhuijzen (March), Kas Kluitman and Pieter Verpaalen (ex-Texures) to walk this beaten path of metal. The result is a grooving metal machine that does not stop until you're beating your head to the sound of the riffs. You could describe its genre as HeavyStonerBluesGrooveRockSludgeMetal. MOURN's heavily riff oriented music trades technical prowess and speed for groove and feel boldly going where many bands have gone before.
Around the summer of 2014 MOURN recorded their first EP "The Beaten Path" to start their road to world domination. This EP will bring you 3 of their most powerful songs to give you a little taste of their music.
This band will truly show itself to best advantage live on stage. Warm up your neck muscles, you'll need it. – Ashladan.be 
What Mourn deliver instead is a constant barrage of meaty, blues-inspired riffs and deep grooves. I recommend that you don't let Mourn fly under your radar. – Heavyblogisheavy
Some mighty nice stoner sludge southern groove metal. – LordsOfMetal
These guys know how to craft some top notch tunes and I see them going far fast. Providing a whole lot of interesting aspects to an overcrowded genre, I can hardly wait for the full length! – Twoguysmetalreviews
#####
If you really would like to support Antichrist, you can just Share our article.
You can also support Antichrist by sending a couple bucks to cover some webhosting expenses. =>>
PayPal