Doom/Death Metal from Ukraine!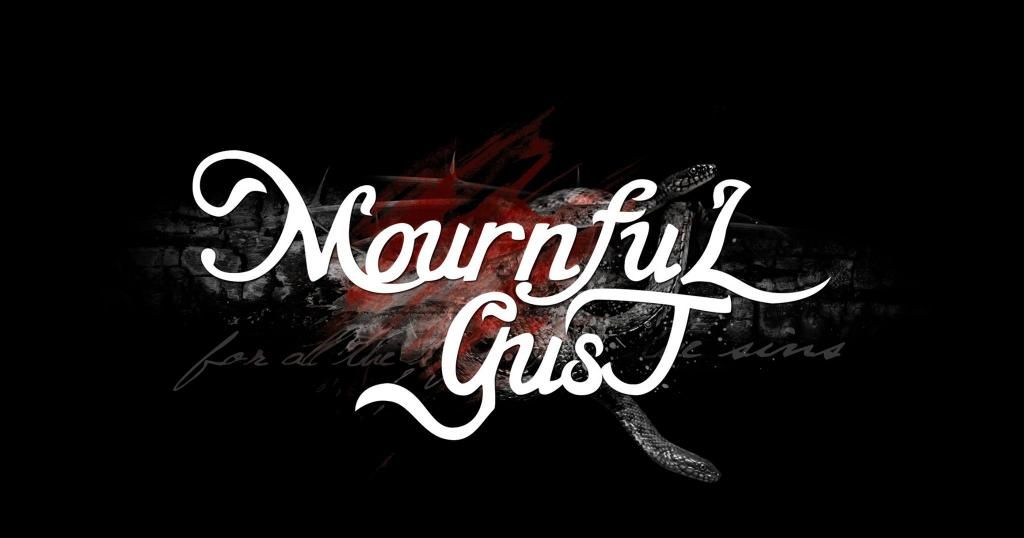 Hellz! Glad to see you on the pages of our mag! Finally we make this interview trueJ. First of all – congratulations with your new album! How much time does the recording process take and what the studio you have used for this?
Thank you for your interest and support of our band! In particular, for our new album "For All The Sins". Several dreary months after its release have already gone by, and I am happy that people are interested in this music. Over half a decade, and it's more than 5 years, lie between the release of the previous CD "The Frankness Eve" and the new piece. As for the studio work and album design, I can say that it took us about a year, till the album was released. This time TA Production is responsible for our sound and the booklet design was made by Nurgeslag. "For All The Sins" is created, recorded and brought into life especially for those, who are now lonely and for whom everything goes wrong in their lives. For those, who are on the verge. For those, who are no more happy for anything, but for those who still have hope and don't want to lose it. This is a part of us for you…
Mournful Gust is an old band at our scene, as I know, you have had some troubles in the past, but you have survived. Tell to the readers about band's roots? I do not ask about biography ('coz it's not necessary these days), I mean musicians past before Mournful Gust.
Our biography involves such bands as Temple of Oblivion (not existing now) and Vae Solis, which is relatively active in these days. Some of our past musicians from these bands created Mournful Gust, having united 15 years ago. Only I am left since that times, and all current musicians of our band are not related to its birth period. Thus, we have only biographical relationship to those roots. At the moment, we have neither spiritual, nor physical connection to what was at the end of 90-s. Our past is relevant only to the pain that is still strong and does not let go to the place, where the light is…
 "For All the Sins" – what is the main idea of this title and how title reflecting album sense?
In fact, everyone is concerned about this question, and I want to sat that the title hasn't got any religious background. Moreover, it doens't have an certian concept. It is like your or my life — none of us knows how the morning will begin and what thoughts you will have before the bedtime. Sins… it should not be taken as literal — this is all that can happen to you — good or bad. It doesn't have any meaning, because it's higher that awarenes by us, alive. And there are no reasons for grief — we paid in full for everything, for all the sins. This is why you can't tell whether you are happy at the very moment of your life. At least because you got interested in such band as Mournful Gust.
The song "Rainbow Eyes" – RAINBOW cover. Nice cover, made in the memory of DIO… Who owns the idea? And why right this song, but not, let's say – "Rainbow in the Dark")?
Thank you for a good mark! It was my idea and I chose this song when, having a particular inner climate, was listening to the whole discography of this wonderful band. I was immediately struck by the depth of this lyrical composition, and it was my own reflection. For several years I've been carrying the idea of fulfilling Rainbow Eyes within our creativity and we've been working on the arrangements for this ballad a long time. And then Dio died… We had no right to avoid recording this song and playing it at our concerts as a sign of respect and memory of Maestro.
Inna Esina – flute (played in the municipal orchestra of Krivoy Rog)… Does she into metal music at all? How you have met?
She's been in the band for a long time, was invited by our current drummer and performed the concerts with us. Now, unfortunately, she is not in Mournful Gust — she left the band because of personal and musical reasons. However, you can hear her on two compositions from «For All The Sins»… As far as I know, she is not into metal music right now.
 About cover art – nude woman going to water… Let's compare – title – for all sins, picture – woman going to water… So, does she going to water, to die for all the sins of humanity or? How can we compare this?
It is my personal sin, which is leaving me. A sin in the form of a naked woman, passing to the horizon and concealed by the water, like cleansing and deliverance. No, she isn't dying for my sins, she'll return from the our side of my life, symbolizing a certain stage. There's no religious undertone here, if you understand me. I do not generalize something universal and common for all the mankind under "For All The Sins". It is my personal story, reflected in the lyrical component of this album. We have a long and fruitful partnership with him and he's an exceptional master of his craft, which embodies the visual side of Mournful Gust creativity.
 From your point of view, what is the main thing – cover art – lyrics or songs structure?
Nurgeslag always pushes from the whole atmosphere of an album — he passes musical and lyrical concept through him, taking into account my personal wishes and comments on my own impressions and forms. But in general, the artist had the full freedom for creating everything, what you do see on the album cover and in the booklet of our new CD.
 Do you think the new album much better than first one "She's My Grief"? From your point of view, what's the main differences between these albums (to the fact, they have more than 10 years of distanceJ).
I cannot compare these two albums in terms of emotional or intimate saturation. Each of our albums, each of our songs is a very important component of Mournful Gust and nothing is made by an accident. I can compare these of those of our albums only in terms of technical realisation. From this point of view, of course, we now have a more grown-up material than we could do 15 or even 5 years ago.
 As for me, your music became a bit light, is it some kind of evolution or…?
I do not really understand what you do meen, speaking about evolution. But if I have captured the essence of this question in the right way, I can tell that we've been constantly changing during these 15 years, but without moving beyond the limits of genre. We do not pay standard doom/death metal with various close elements, and I guess that many will agree with me. We had numerous changes in the line-up and none of our albums has been composed by the same musicians. This condition has led to a kind of evolution if this is what you asked about.
 From where you take an inspiration except of music? Do you have some songs which were composed right after some real and similar event in your life?
I've been thinking about it a lot and came up with a conclusion that the life itself is an inspiration for our music. There is nothing to be made up, modelled, read about, watched or heard. Waking up is enough, because someday someone from us will make it for the last time in life. In our lyrics, I describe many events, which already happened in my life or which will happen to me in the future, and I already am afraid of it. This is why I am not going to use those words or topics which will destroy my body forever in the songs for the next album. I do not have any will to miss myself on the other side of life…
What about Mournful Gust and Autumnia, do you have enough time to share between two bands?
I am not busy with Autumnia, since this project is no more active now. I sang on al three Autumnia albums and wrote all the lyrics. At that moment, it didn't interfere me from developing Mournful Gust. Participation in Autumnia gave me a way out from my complicated creativity situations, gaining temporary personal happiness and a certain popularity in favor of Mournful Gust. I miss those days very much and would like to return to that period, to those candles, which burnt just for me…
 Well, what about gigs in the support of "For All the Sins"? Where you have played already and what the plans for future "roads"?
We played only several gigs on thematical shows with intent to present our new songs. I hope, we'll get an opportunity to play as many shows and festivals, thanks to support of organizers and public. Thus, we are always opened for your cities and stages…
Solitude music is good label from Russia, with good promotion, distribution and etc… But what they give you except of promotion? Do they organize some gigs for you, cover studious costs and etc…?
Nowadays, Solituade are only into physical distribution of albums and spreading CDs for reviews. It is a very thorough, useful, but unprofitable business, interesting only for some exceptional enthusiasts. We are not naïve and understand everything, when an album is being released — we get no gigs and interviews with the help of the label. The similar situation with the budget for recording the album — all the funds are taken from our own pockets. However, it is better than distributing albums on our own way, at least because fans of this genre value reputation of the label, the sign of which is placed on the back cover of the album.
 Do you have some fans in your city Krivoy Rog? How big there local scene?
As in any other city we have our listeners, which attend our rare concerts. We have many bands playing in different metal genres and their number constantly growth during the last time. And it is surprisingly, no matter, to what geographical position it belongs. Yes, we are the oldest band in our city and there are many young bands, compared to us. It is great that young people prefer playing metal to leading antisocial style of life…
Ok, do you remember those times when first album was created? It was about 15 years ago… From your point of view, what is the difference between your personal thoughts those days and right now? Do you now reject some ideas, which you have had back then?
I recently took folders with my lyrics written in different times of my not ineresting to anyone life. And if I recall those days, which you are asking about, nothing has changed in my lyrical position and attitude to life, to perception of everything happening. Absolutely. I do not feel myself totally unhappy, but I cannot say that I am happy. I didn't betray any of my words or my lines. I feel very touchy to everything I write and sing. Yes, this depresses me and upsets my personal life, but it is the thing I cannot change in myself. My own lyrics is still up-to-date even now — the lyrics, which I wrote as I was 20 and the lyrics, which I wrote before this interview…
How do you evaluate situation in Ukraine now? I mean not musical theme, but Euromaydan and etc… What is your relation to political things? From your point of view, what kind of future waiting for our country near years?
We have never positioned ourselves as a politically oriented musical band or something like that. It can be seen from our genre. We have nothing in common neither with politics, nor with religion, as it is taken by lots of our colleagues on stage and beyond. But, as for social position, we, as living in this community, always worry about what is happening, both in and outside our country. I hope that by the moment this interview is published, Situation in Ukraine will be more positively stable without all the extremely stressful environments. We all need it. Each human, coming to this Earth, has a right for happiness and calm life. I am not a prophet, nor a politician — I cannot see what to expect in future for our state. But no matter what happens — let it be anything only without people dying and suffering. It doesn't matter, which side of the barricades they are at.
Have you even thought about death? Like what's there waiting for us after death?
My attitude towards this question is likely not as sacral. I don't spend all my time thinking about this topic. Just don't want to waste my life on thoughts about inevitable things. Let it be like it should. It's only a matter of time, and it is coming closer. I'd like to spend my time brightly and usefully, leave a trail in people's hearts. Death is the topic for philosophers and those who have nothing else to think about. At this very moment of my life, death is only a natural ending of a physical life followed by deliverance from a burden that biles my soul and consciousness.
Back in the years of paper letters we had correspondence with you. Then contact was lost. Do you still have contacts with many people from the past?
I have very warm memories for the time, when there was no Internet and I communicated with people with the help of ordinary snail mail. Of course, you can use it even now, but everyone understands that this is no more than just epistolary fetish. The gone time brought lots of changes in the communicational sphere, making it more comfortable and fast. Yes, I still speak with some people like 15-16 years ago, but now with the help of social networks. Unfortunately, it cannot be compared to the feeling, when you find several letters in your post box, bring them home, unpack envelopes, observe flyers… And then write answers on long evenings. It is a certain nostalgy…
Well, I think that's all for now. Thx for your time and see you later on some gig! DOOM OR BE DOOMED!)
Thank you for interesting questions and support for Mournful Gust on the pages of Antichrist'zine!!! I thank to everyone, who read this interview. Let our scene prospere!
Aleksandr Maksymov
Sponsor:
[AdSense-A]
#####
If you really would like to support Antichrist, you can just Share our article.
You can also support Antichrist by sending a couple bucks to cover some webhosting expenses.