Orobas "Arise In Impurity"
Symbol Of Domination Productions / Black Lion Productions
Here's another band which I got to know, thank to my activity on some social media which name's beginning on "F". Though we can complain on this as surely has bad sides, but… I think it just depends how you use it.
But it's not a place for disputing about social media and how world and underground scene changed during all these years when I'm active Metalhead – to call it in this way. OROBAS is a young band which was born in 2015. There were of course some changes in line-up (I guess that the most of bands especially on the beginning of existence pass this "disease"). Now there play four guys – so, we can say, classic Metal number… ehehehehehehe… Anyway, OROBAS is another example that Metal is played in every single corner of this world! Home-city of members of OROBAS is capital of Bangladesh. Dhaka officially is a city since 1947, but it has really long and interesting history, there's many monuments and so on. Anyway, as I know there's good and quite strong scene over there. Maybe it's not as huge as in India, but there're still many interesting bands in this country (and not only in Dhaka).
So "Arise In Impurity" is of course debut of the band. But to be honest I don't hear this. Guys had to play earlier in other bands for sure. At least I'd be extremely surprised if they didn't do it!!! Guys call their music by Blackened Death Metal. And I can agree with this term, even if I don't find many elements which can be connected with Black Metal (maybe except topics which are taken in lyrics and bands which they mention as their biggest influences). But the truth is also that it's not clean, typical Death Metal. I mean, whole EP has Death Metal character, but I can hear Thrash influences as well, the same like other ones which sometimes aren't even Metal, I think.
Riffs are rather broken, but we're also able to hear some melodies sometimes. But they're not like Melodic Death Metal or even more melodic stuff (too low tuning of a guitar). There's also moment when Lord O. Badagris who's only session musician here uses instrument which isn't connected with Metal, even if is "close cousin" of guitar – ukulele. We can hear also some solo, too. Drummer (Hephaestus) plays variously, there're some passages and he uses quite often cymbals what I always liked. There's also something punk here – at least from time to time. In vocal of Sammael I hear fascination of band which is covered here on the EP. This band is from Newcastle and covered song calls "Black Metal". By the way, this is good cover in my opinion. It's not the same, It's more growling, but more in the vein of Alex Okendo. You know, I mean general character, not some very big similarity of timbre of voice.
OK, end of this writing!!! I recommend this band for all Metalheads over there!!! Maybe it's not something very special, but I think that everyone should be satisfied after listening of that! OH… I forgot, almost, to tell you that EP contains four own compositions and the cover mentioned above. And on the end some words to haters which this band has. If you think that they play shitty and so on – just create own band and record better stuff!!! Besides Metal scene is not a place for people with such act – here we help each other, that's how our scene always worked and will work! So think about it and if you really act like Metalhead should act. Besides, it's just childish.
#####
Support your favorite magazine by donation to cover some webhosting expenses - that will be more than appreciated!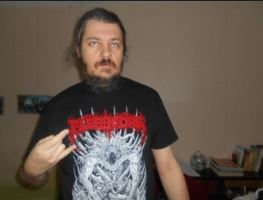 Latest posts by Bart Tomaszewski
(see all)
Score

89%

4.1

(

4

votes)
: