Mouth of Madness "Mouth of Madness"
Iron Bonehead productions
Görlitz is located on the border with Poland. Well, to be honest it's practically one city with Polish Zgorzelec. Well, historically this is one city and only political decision made that it evaluated in two cities on two sides of border between East Germany and Poland. Today there're still two cities, but it works as it'd be a one – councils of both cities very closely cooperate with each other (there's a common urban management), there's common public transportation and so on. By the way, history of the city has roots in at least 10th century. So it's clear that there's many monuments, architecture presents all styles since Gothic and so on. And it doesn't matter that Görlitz (even if we'll count it together with Zgorzelec isn't big city).
Anyway, two citizens of this German city decided in 2013 to create a band. And that's why MOUTH OF MADNESS begun its existence. I have no idea what happened during these three years or even who plays what instrument, but the fact is that mentioned above demo or cassette-EP (in my opinion as on EP, even in tape format, it's a little bit too long) is a debut of the band. Anyway, we have here five sometimes long songs. That's Black Metal in describing of musicians what we hear here. Tempos are rather middle, even if we have some speed-ups here, too. Riffs are surely inspired by old school bands and that's why they're sometimes thrashy ones, but mostly reminds me "Altars of Madness" – especially it's about "Dead Flesh Ritual" where's fragment when I have impression that I'm listening to one of the songs from mentioned above album. Well, in general repertoire of riffs isn't here incredible or even impressive, but this music just wouldn't stand if it'd be opposite. It'd also sound at least strange, to don't tell: shitty! Drums are very open galloping. But it's not mindless beating in the same tempo whole the time. We have some passages, cymbals and so on. To be honest cymbals are in use quite often, even if I'd like to hear more of them. However it's mostly lke a bombing. Guy who screams in MOUTH OF MADNESS does it in quite hysteric way what's in the case of this music a compliment. It's not growling, not screaming – rather something between.
We can of course say that songs are similar to each other and in general poor when it's about arrangement and stuff like that. It'll be truth, but from other side it's a Metal, not some dandified, cutesy music for eggheads! There're many things which can be done better in future, but generally it's a pleasure to listen in this stuff.
#####
Support your favorite magazine by donation to cover some webhosting expenses - that will be more than appreciated!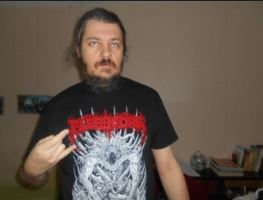 Latest posts by Bart Tomaszewski
(see all)
Score

87%

3.6

(

1

votes)
: