Antichrist metalzine XV anniversary T-Shirt! -
check here
.
PRINCIPALITY OF HELL "Sulfur & Bane"
Osmose Productions
What can play with such name and logo, especially if it comes from Greece (and if band comes from Greece than it means very often that it comes from its capitol)?!? YES!!! Your answer yes, I mean yours is good!!! This is Black/Thrash Metal!!! Well, if I'd be lazy asshole than I'd only mention bands of which our Greek friends made covers. Then I'd don't have write anything more coz everyone would know what to expect after this band and album (EVERYONE knows these bands very, very well!!!). But I never liked and never did and never will do things like that!!! Besides if I'd do it I'd have to stop to listen to "Sulfur & Bane" and write review of some other stuff. And I want to listen to it as long as I'll only can so…
This first in history of the band (by the way, rather short history coz band was born in 2013) full-length contains twelve songs of inspired by classic 80's bands Metal. I of course could  dispute if there's more elements of Thrash, Black or maybe Speed or… and which term describes the best what happens on this album. Should it be Black/Thrash, Thrash/Black or Black/Speed or…?!? To be honest I always had and still have discussions like that deep in to my ass!!! What difference how we'll call it and which element we'll use as first one and which as second?!? In my opinion: ANY!!! In Metal the most important is if it kick ass or not. And believe me that this stuff really does it!
That's the fact – music is in middle and sometimes even, let's call it, slow-middle tempos. There're speed-ups or even whole quite speed moments, but in general… Riffs are rather short and surely concrete. Of course we can hear here also some solos. Generally I hear in both of them huge fascination of some really well-known English band which I saw some time ago in Copenhagen (anyway, when I only remind it to me than I'm all shaking from excitement!!!). Well, to be honest I hear the same also in drums' and bass' work. Vocal reminds mentioned. Even if not directly, band, too. But I'm sure that for The Magus (bass, vocal), Mealstorm (dr) and El (guit) it's the best compliment which they can hear!
By the way, all three are very experienced musicians. When I take a look on number of bands in which every of them play I have no idea when and if they sleep, eat and so on. About work I'll even don't talk a word… But it's not my problem! For me the only important thing is that they create great music!!! So get it as fast as possible if you're only a fan (even not true-blue) of really old-school, classic playing of Metal!!!
#####
Support your favorite magazine by donation to cover some webhosting expenses - that will be more than appreciated!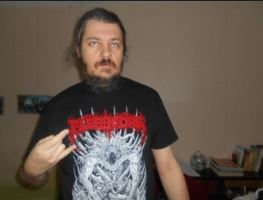 Latest posts by Bart Tomaszewski
(see all)