Here are the press releases for the new signed bands on Metal On Metal records.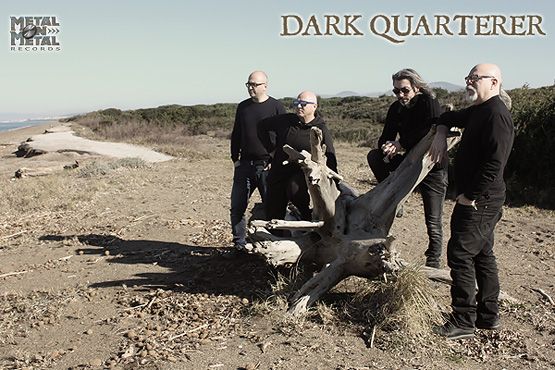 The Italian metal veterans DARK QUARTERER, known as the pioneers of the epic/progressive style, have signed with Metal on Metal Records for the release of their just recorded 6th full-length album "Ithaca".
Commented Gianni Nepi, the band's vocalist/bassist:
"We've known Simone and Jowita for years. They often came to our concerts, and there's always been a great, friendly relationship between us. Oftentimes Jowita would take photos at our shows and share them with us. We've had the chance to see the quality of their releases, and when we needed a new label, it seemed natural to consider their involvement. We met several times before finalizing the terms of the agreement and we believe it's a great opportunity to keep on releasing our albums in the best way possible."
Jowita Kaminska-Peruzzi, Metal on Metal Records CEO, added:
"My first meeting with DARK QUARTERER and their unique music was in 2004, at the Keep It True festival in Germany. I had not heard any song of that band before, and I was enchanted on the spot. We've kept in touch ever since and by now we've seen the band live over a dozen of times… and each time they sounded incredible, no matter if they played on a big stage or in a small club or a biker bar. A spotless performance is a guarantee with his band. Such level of talent and professionalism is rare these days indeed. It's an honour for us to be working with this legendary band that also happens to be comprised of true gentlemen."
DARK QUARTERER started out in 1980 in Piombino (Tuscany), though the roots of the band date back to 1974 (when they played covers as OMEGA R), and released their self-titled debut album in 1987. They've gained their cult underground following through five studio albums (re-released over the years several times) and many live performances, including shows at prestigious festivals all over Europe, where they were often considered the highlight of the events, consolidating their reputation as an amazingly good live band. In the recent years, they have played in Germany, Sweden, Denmark, Norway, Malta, Greece, Austria, Cyprus, France, UK, and at a great many Italian events. With the founding members, Gianni Nepi (vocals/bass) and Paolo "Nipa" Ninci (drums), and the line-up that's been steady since 2003, the band has just recorded their new work. The follow-up to their highly acclaimed "Symbols" (2008), "Ithaca" is a concept album utilizing the Homeric return journey of Odysseus to his home island as a metaphor for the journey of life. The CD is set to be released this April.
More info about the band, including detailed biography, discography, photos and links, can be found on the DARK QUARTERER page on Metal on Metal Records website. Stay updated on the band's activity on Facebook.
Metal on Metal Records announced the signing of UK thrash/power metal band RISEN PROPHECY. Their 2nd full-length titled "Into the Valley of Hinnom" is scheduled for April release. The band prepared and put on their YouTube channel the album trailer with excerpts of most of the songs. Watch here:

Commented the label:
"This relatively young band from Newcastle area contacted us last year, sending their just recorded album "Into the Valley of Hinnom", and had all what it takes. It's really pretty simple: if we press 'play' over and over again, and additionally, if the band is active and also looks the part, chances are big we'll contact them. They instantly got us hooked on their combination of thrash and power metal (of the US variety) with some slight progressive and epic metal elements… And when the vocalist has really mighty pipes and is versatile, it's difficult for us to resist. Dan Tyrens of RISEN PROPHECY is one outstanding vocalist who can sing in a clean voice, sometimes going also for extreme high-pitched, ear-splitting screams, but also sings in a much more brutal, snarl-like voice, which sounds really vitriolic and venomous. Overall, ICED EARTH seems to be their biggest and most easily noticeable influence, and they also remind us a lot of UNEARTHED from Florida (who had a few early ICED EARTH members in their ranks), but it wasn't easy to find other comparisons for this talented band, as they have quite a personal style. There are surely some similarities to TESTAMENT, DEFIANCE, FORBIDDEN, ARTILLERY, SABBAT, DEMONS AND WIZARDS and JUDAS PRIEST, and from the more obscure acts, to SINDROME, HELLHOUND and MAELSTROM (the prog thrash/power one from New York)…
In our opinion, this band is simply BRILLIANT. Just check them out and see if you agree!"
You can find out more about RISEN PROPHECY on their page on Metal on Metal Records website, and follow the band on Facebook.
https://www.facebook.com/MetalOnMetalRecords
#####
If you really would like to support Antichrist, you can just Share our article.
You can also support Antichrist by sending a couple bucks to cover some webhosting expenses. =>>
PayPal