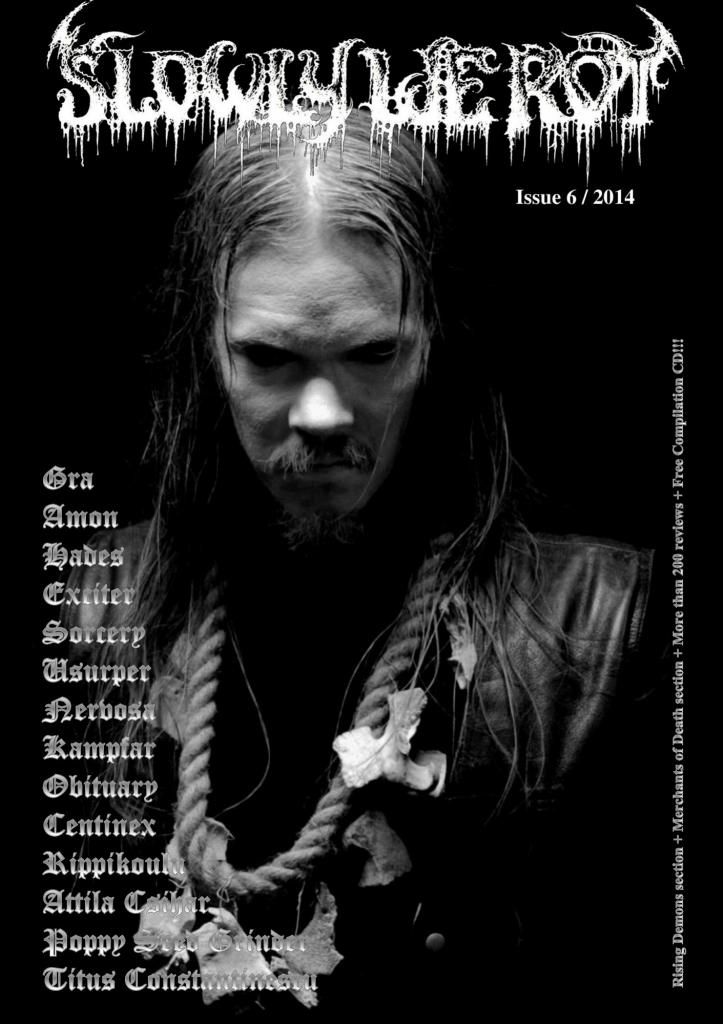 6th issue of Transylvania / Romania based fanzine
Slowly We Rot
60 pages, A4 format, professional print
English written
Compilation CD bonus!Featuring interviews with:
Amon
(Eric Hoffman's words on why Amon is better than Deicide!)
Attila Csihar
from Mayhem, Tormentor, Aborym, etc. (reprint of probably the most in depth interview with him ever made!)
Centinex
(recently reunited Swedish Death Metal legends)
Exciter
(Speed Metal legends!)
Gra
(Swedish Black Metal sensation)
Hades
(kings of Norwegian Viking Black Metal)
Kampfar
(Norse Pagan Folk masters)
Nervosa
(Brazilian Thrash Metal sensation)
Obituary
(!!!)
Poppy Seed Grinder
(Czech Brutal Death Metal sickos)
Rippikoulu
(if you know Finnish Doom Death you know them)
Sorcery
(Swedish Death Metal veterans)
Titus Constantinescu
(Romanian booking agent, band manager, merchandiser, zine editor)
Usurper
(a legend for many, unknown for others, but definitely a controversial band)- more than 250 audio and zine reviews-
Rising Demons section
– interviews with upcoming promising acts:
Blodorn
(France)
Dasap
(France)
de profundis
(Hungary)
Frostwork
(UK)
Killrazer
(Australia)
Miserable Failure
(France)
Nerocapra
(Italy)
Plagues
(USA)
Serpentrance
(Russia)
Sidious
(UK)
Skinlepsy
(Brazil)
Solace of Requiem
(USA)
Solemn Curse
(USA)
Sons of Famine
(USA)
Taatsi
(Finland)
Terrorfront
(Slovenia)
Thy Legion
(Malta)
Winter Deluge
(New Zealand)
– Merchants of Death section – interviews with Extreme Metal labels:
Cold Raw Records (UK)
Metallic Media (USA)
Wydawnicto Muzyczne Psycho (Poland)
TerrorGhoul Productions (Austria)
Slowly We Rot #4 comes together with a free Extreme Metal compilation CD featuring: Blodorn, Dasap, de profundis, Frostwork, Killrazer, Miserable Failure, Nerocapra, Plagues, Serpentrance, Sidious, Skinlepsy, Solace of Requiem, Solemn Curse, Sons of Famine, Taatsi, Terrorfront, Thy Legion, Winter Deluge.
http://slowlywerot.miiduu.com/
#####
If you really would like to support Antichrist, you can just Share our article.
You can also support Antichrist by sending a couple bucks to cover some webhosting expenses. =>>
PayPal