Icelandic classic rock trio THE VINTAGE CARAVAN have announced the details for the band's upcoming album, entitled "Arrival", scheduled for a May 15 release via Nuclear Blast.
Find the stunning psychedelic cover by renowned American artist David Paul Seymour ( http://www.davidpaulseymour.com ) here.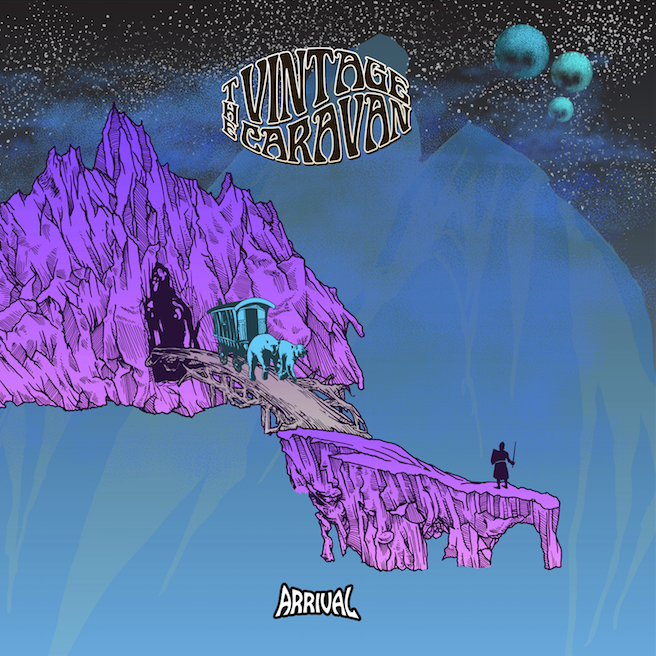 Commented the band:
"We are so excited for the release of the upcoming album. It's definitely a step forward for us musically and we are incredibly happy with how natural the recording process was and how well all of the songs turned out. Get ready for "Arrival"!"
The band recorded the follow-up to 2014's critically acclaimed "Voyage" in an isolated fjord where they set up a studio in an old ballroom and worked with producer Axel "Flexi" Árnason who also worked with the band on their last album.
Commented the band:
"The songwriting sessions have been going on since around October 2012 when our album "Voyage" had been out in Iceland for a month. We immediately started writing at that point so some of the songs are quite old for us. Because of that we have a bit too many songs but we intend to make this album around 10 tracks so we can put what we think are the best tracks on the album.
Right now we are doing demos, polishing the stuff and thinking of ways to nicely add to the production of the songs.
We are very excited to start recording this album. It's going to be interesting to work on. The album is a bit different from our previous album – it's a bit darker, a bit heavier, a bit more melodic but definitely all in a good way."
https://www.facebook.com/vintagecaravan
#####
Support your favorite magazine by donation to cover some webhosting expenses - that will be more than appreciated!
Latest posts by Oleks Antichrist
(see all)