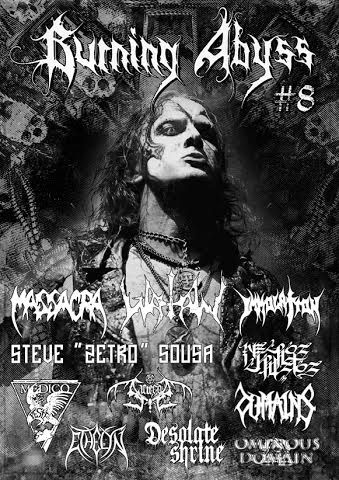 Burning Abyss issue #8 is out! You will not find here any infantile, cliché questions about the band histories, recording studios and such, only insightful, often obscure, inquiries addressed to entities such as Erik of Watain, Bob of Immolation, Steve 'Zetro' Sousa of Exodus/Hatriot, Mr. Mors Dalos Ra of Necros Christos, Silencer of Medico Peste, L.L. of Desolate Shrine, David of Domains, Mysth & Morbid of Ethelyn, Rou of Sartegos and Chris of Ominous Domain distro/Razed Soul Records. To complete the whole, we have included a short article about France's Massacra and, as usual, Sascha of Mandatory's memories of classic (death) metal albums of the 1990s, some quotes, playlists, and over 200 reviews of music and 'zines.  All this written in English on 68 professionally printed, full-size pages. Price: €7/$9 (registered postage included). Get in touch via the following email address: b_abyss@interia.pl.
"I will go through hell and high water, and suffer all the pains of Hell, to reach a state of artistic – and spiritual – independence." Erik of Watain
https://www.facebook.com/events/923619150981560/?source=1
www.facebook.com/BurningAbyssZine
www.facebook.com/NomadNomadichell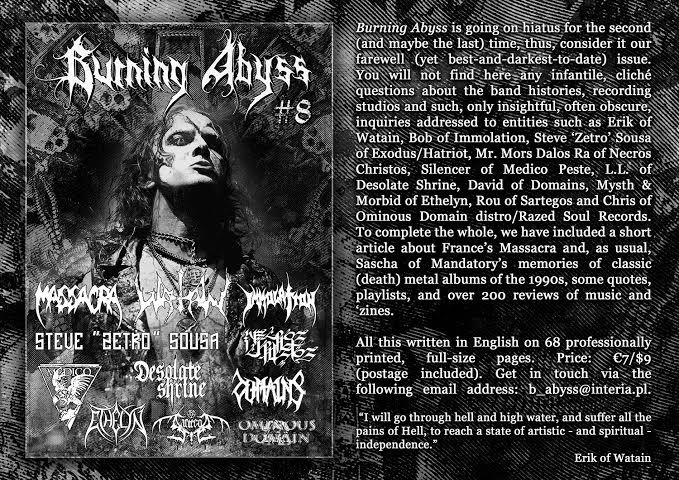 Sponsors:
[AdSense-A]
#####
If you really would like to support Antichrist, you can just Share our article.
You can also support Antichrist by sending a couple bucks to cover some webhosting expenses. =>>
PayPal
[ad 1]