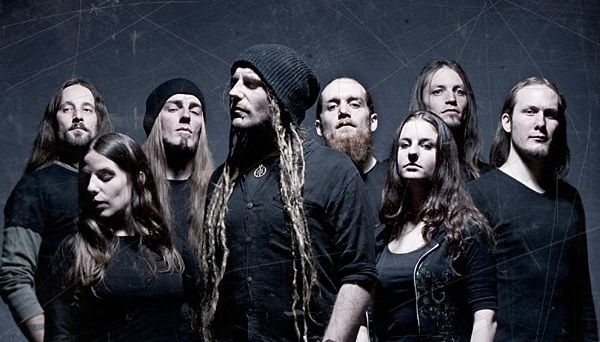 After the incredibly successful first part of the their European "Origins" tour – with several shows sold out weeks in advance – Swiss folk metal eight-piece ELUVEITIE are set to return to the road for the second leg of the European "Origins" tour. Kicking off today at Bilbao, the band will present their current masterpiece "Origins" all throughout February.
ELUVEITIE are also pleased to announced that they will be taking part in the forthcoming "Rock Fossils" exhibition held in Bern, the capital city of their home country Switzerland. The ceremony will take place at the Naturhistorischen Museum where a fossil will be named after ELUVEITIE, making them the third band ever to be granted this honour (after KING DIAMOND and MOTÖRHEAD). On March 18, 2015, a model of the fossil will be presented to the band, who will be playing an exclusive acoustic set at the museum. Fans can enter a competition to win tickets to this celebratory event, here: http://rockfossils.ch .
Be sure not to miss ELUVEITIE on their remaining tour dates:
"Origins", the bands sixth full length album was recorded at the New Sound Studios by Tommy Vetterli (CORONER, KREATOR & many more) and is the successor of the most acclaimed album "Helvetios".
#####
If you really would like to support Antichrist, you can just Share our article.
You can also support Antichrist by sending a couple bucks to cover some webhosting expenses. =>>
PayPal