Hells Headbangers sets March 10th as the international release date for Gouge's debut album, Beyond Death. These Norwegian death metal upstarts started off with a bang with their Doomed to Death EP, one of Hells Headbangers' hottest 7″s in recent years, and now with Beyond Death, the unholy duo up-ratchet their ravenous deathnoise x 666. Gouge's influences are clearly from the oldest of schools – Repulsion, Autopsy, Death Strike, and earliest Death – but even just a cursory listen to Beyond Death reveals an acute understanding of what drives those sounds rather than the replication of them: their attack is gross and gutsfucking, but burning with a passion that's blanching to behold. Not to mention that these young mavericks know how to write actual songs – and there's 10 quick-hitting slices of absolute DEATH here. No better time, then, to go Beyond Death with Gouge! Cover and tracklisting are as follows: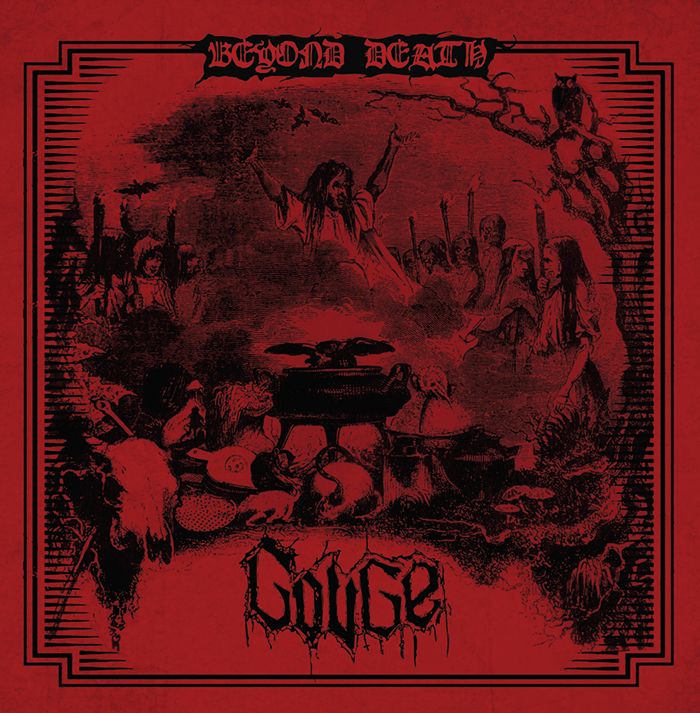 Tracklisting for Gouge's Beyond Death
1. Wretched Passion
2. Breath Of The Reaper
3. I Smell Of Rotten Death
4. Blood Feast
5. Putrefaction
6. Butcher Attack
7. Morbid Curse
8. Malady Macabre
9. Uncontrollable Madness
10. Chaos And Horror
11. Devils Debt
12. Beyond Death
A statement from the band reads: "Gouge is a death metal band that hails from Kolbotn, Norway. The two members, Christoffer Bråthen and Herman Holen, started jamming in the fall of 2011 after an overdose of Repulsion, Dr Shrinker, and Funeral listening sessions. The debut EP, Doomed to Death, was released in 2011, and now our debut album, entitledBeyond Death, is ready to come out and destroy your ears!"
MORE INFO:
www.facebook.com/gouge.nekro
Sponsors:
[AdSense-A]
#####
If you really would like to support Antichrist, you can just Share our article.
You can also support Antichrist by sending a couple bucks to cover some webhosting expenses. =>>
PayPal
[ad 1]