Detonation "Reprisal"
Vic records
Well, "Reprisal" isn't new album. We can even say that it's an old one coz it was released in 2011, but since the band hasn't any newer release than… Anyway, I think and hope so it's only question of time. DETONATION was reunited in 2013 and it means that guys surely work hard on new songs. Originally they were formed in 1997 in one of biggest cities of Netherlands – Utrecht. Unfortunately since something like one and an half year they had problems with line-up and were on hold. But somehow being on hold so long time was a blessing. Thank to it now in the band don't play anymore only one original member – Thomas Kalksma (dr) who was replaced in meantime by three musicians – since 2013 about drums takes care Mathieu Boer. However, on album drumming Michiel van der Plicht.
He does it in really various way. Seemingly it doesn't happen a lot here. There're some passages, but… If you'll listen carefully what he does than you'll know that appearances can be deceptive also in this case. There're also quite a lot of cymbals here… Riffs are from one side broken, but from other also melodic quite often. We have here three guitars, so you can be sure that it happens really a lot here. Of course some soloes (not typical, but still soloes) take place here, too as well. Im general it's maybe not some super- hypercomplicateds, but enough advanced technically, anyway. Guys are first of all brutal – even in these more melodic riffs! Vocal is something quite typical for Melodic Death Metal. It reminds me somehow some Swedish band which living legend of this kind of playing. Bass of course is also various. As usually this instrument isn't very well hearable. It's somewhere there in background, but if somebody listens carefully than will confirm my words…
Generally it's good album. Surely it isn't something what will go down in history of Metal music, but surely it'll also don't be forgotten directly after releasing. The best proof of this is that I'm just writing this review. So let's cross the fingers for new stuff!!! I'll look forward to this, by the way.
Contact: info.detonation@gmail.com
#####
Support your favorite magazine by donation to cover some webhosting expenses - that will be more than appreciated!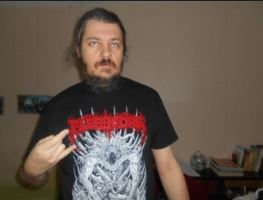 Latest posts by Bart Tomaszewski
(see all)
Score

87%

3.6

(

1

votes)
: