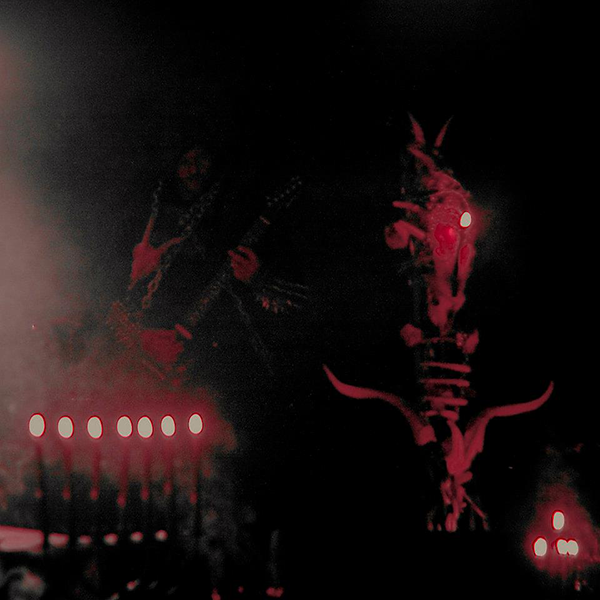 Once again, a pact in blood has been sealed. Indeed, I'm proud to announce the signing of the Occult and Maddening Blackened Death Metal entity VASSAFOR.
New Zealand's finest and filthiest extreme musical act VASSAFOR is the howling void that opens the gateway into the abyss, with a sound unlike anything you have ever heard!! The incarnation of the uncomfortable sound of the space between the stars, the silence outside of time…
VK (Strings, Voice) comments: "VASSAFOR is proud to announce our association with Debemur Morti Productions. We are proud to join our brothers in ARCHGOAT and such visionary acts as BLUT AUS NORD and MANES as label mates, and to become the first NZBM band represented on this great label…."
To celebrate this union, Debemur Morti will release a massive offering that includes all the post-MMX recordings from the Vassaforian Temple, for the first time on CD. This triple CD boxset entitled "Invocations Of Darkness" will be released in the coming months.
VASSAFOR have also announced their first ever European tour ! The road trip starts in February and will see the band perform alongside ASCENSION, BÖLZER and DYSENGELIUM.
Other bands that will make one-off appearances at selected dates include THE RUINS OF BEVERAST, DESTRÖYER 666, ALBERZ DUZ and MOSAIC.
A full list of confirmed tour dates can be found below.
Under Four Wings of Death 2015 :
19/2 Arnhem/NL – Willemeen
20/2 Antwerpen/B – Het Bos
21/2 Oberhausen/D – Resonanzwerk
22/2 London/UK – The Dome
23/2 Paris /F – Divan du Monde
24/2 Rennes/F – Ubu
25/2 Saint Etienne/F – La Clé d'Voute
26/2 Brescia /IT – Circolo Colony
27/2 Olten/CH – Provisorium 8
28/2 Erfurt/D – From Hell (w. Albez Duz)
1/3 Berlin /D – K17
Join them in their Worship… to the death!
VASSAFOR is the sound of the space between the stars, the howling void into the abyss, the silence outside of time….
While the physical presence formed in Southern Abyss in mid nineties, the Vassaforian dreadnaught awakened fully in MMIV. A 2nd demo tape (MMIV), a 7″ EP (MMV) and the self titled release (MMVII) were released until the modern configuration was achieved in MMX. Since that time Satan has blessed VASSAFOR with the 2 song Promo MMX tape, followed by the debut dLP "Obsidian Codex" in MMXII. A split LP with NZ veterans SINISTROUS DIABOLUS and another with TEMPLE NIGHTSIDE entitled "Call of the Maelstrom" have led up to MMXV and the 3CD set entitled "Invocations of Darkness", the first offering via Debemur Morti Productions that collects all the post-MMX recordings from the Vassaforian Temple on CD for the first time.
Join us in our Worship…to the death
Sponsors:
[AdSense-A]
#####
If you really would like to support Antichrist, you can just Share our article.
You can also support Antichrist by sending a couple bucks to cover some webhosting expenses. =>>
PayPal
[ad 1]