Antichrist metalzine XV anniversary T-Shirt! -
check here
.
Metal's highly-esteemed storytellers BLIND GUARDIAN have just released the second new album trailer for their highly-anticipated tenth studio release, »Beyond The Red Mirror«, due out in Europe on January 30th, 2015, February 2nd in the UK and February 3rd, 2015 in North America.
"We do have a really great pre-production, very precise and rich in details," shares BLIND GUARDIAN drummer Frederik Ehmke. "We completely separate the creative part from the purely performance part of recording. This means that my head is clear and I can focus 100% on the performance."
Guitarist Marcus Siepen adds: "We like to keep our options open to the very end. We do not record just two rhythm guitar tracks; we add several tracks, also with different tunings… we enrich the sound with down-tuned guitars. A wall of sound!"
Check out Album Trailer #2 – which highlights drums & guitar parts – on the Nuclear Blast YouTube channel, or right here:
Now available: BLIND GUARDIAN's 'Twilight Of The Gods' mini-CD single including two live tracks recorded at 2011's Wacken Open Air festival in Germany. Also available as a vinyl single in different colors here: http://smarturl.it/BLIND-GUARDIAN-Gods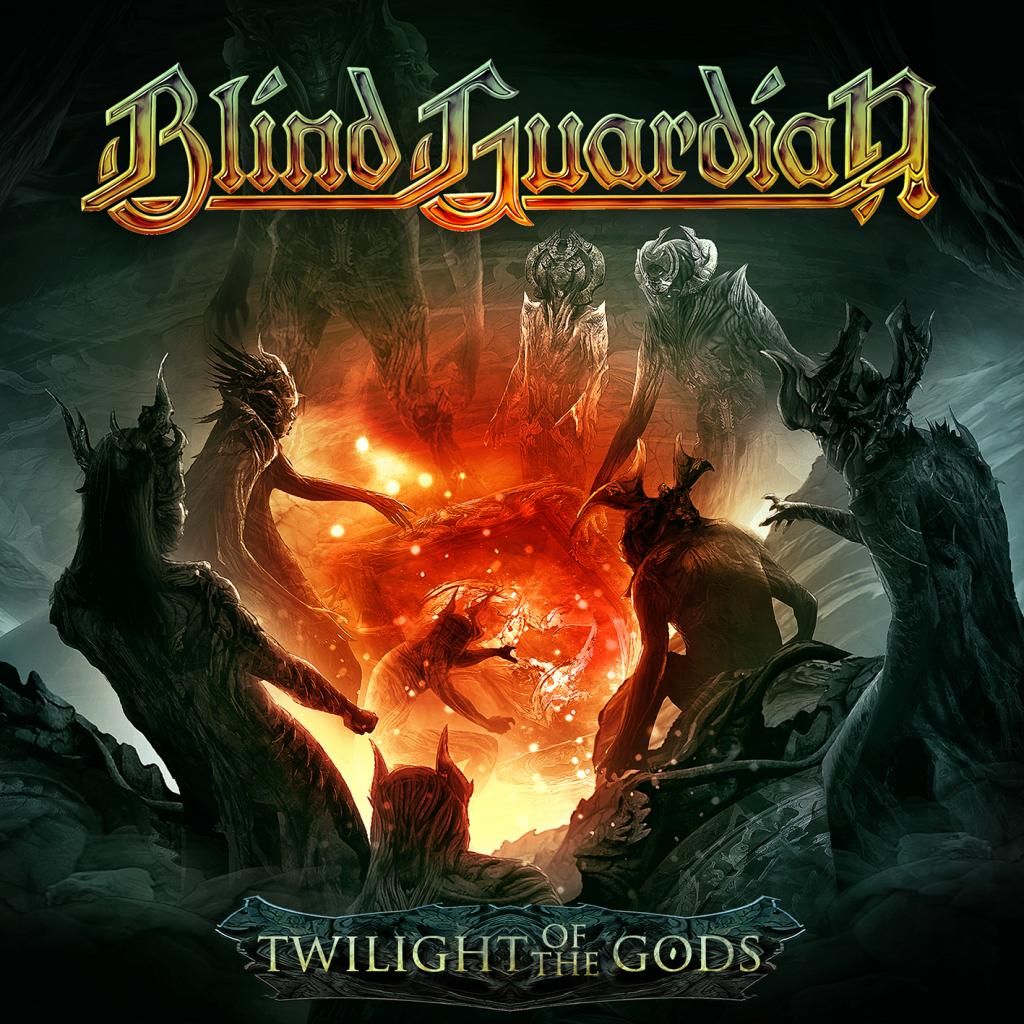 The »Twilight Of The Gods« mini-CD track listing is:
01. Twilight Of The Gods
02. Time Stands Still (At The Iron Hill) – Live at Wacken 2011
03. The Bard's Song (In The Forest) – Live at Wacken 2011
Four-and-a-half years in the making, »Beyond The Red Mirror« was recorded at Twilight Hall Studio in Grefrath, Germany and produced by Charlie Bauerfeind (SAXON, HAMMERFALL, HELLOWEEN). The album's spellbinding tracks showcase BLIND GUARDIAN's long-awaited collaborative work with three different classical choirs from Prague, Budapest, and Boston, plus two grand orchestras – each featuring 90 musicians. An endeavour demanding that attention be paid to the lyrics as much as to the music, »Beyond The Red Mirror« is a desperate search for truth, an exploration of the relativities of good and evil, a testimony of the consequences of lost opportunities, a glimpse into a distant universe's dystopian society, and a story about a prophecy, a promise of revolution, a plot for revenge, and a miracle machine with powers far beyond what mere mortals could have dreamed possible.
Features artwork by long-time collaborator Felipe Machado »Beyond The Red Mirror« is now available for pre-order in the following formats:
• Jewel Case (10 songs)
• Limited Edition Digi-Pak / Digi-Book (11 songs)
• Double LP gatefold vinyl (11 songs)
• EarBook (12 songs plus illustrations, photos, and liner notes)
• Exclusive Limited Edition NB Mail-Order Earbook (12 songs plus illustrations, photos, liner notes + bonus 10")
Left (blue): Standard Artwork
Right (red): Earbook / Digi-Pak & Digi-Book Artwork
The track listing for »Beyond The Red Mirror« is as follows:
01. Ninth Wave
02. Twilight Of The Gods
03. Prophecies
04. At The Edge Of Time
05. Ashes Of Eternity
06. Distant Memories (bonus track on limited editions + vinyl)
07. Holy Grail
08. The Throne
09. Sacred Mind
10. Miracle Machine
11. Grand Parade
BLIND GUARDIAN will be performing on this year's 70,000 Tons of Metal cruise in January 2015 before launching their headlining tour through nine European countries this upcoming April and May. A very special hometown show at the Mitsubishi Electric Halle in Düsseldorf, Germany will take place on April 25th; four dates in the Russian Federation are planned for June.
All confirmed BLIND GUARDIAN dates are listed below:
22.-26-01 USA Caribbean Sea – 70.000 Tons of Metal
10.04. NL Eindhoven – Effenaar
11.04. BE Antwerps-Borgerhout – Trix Zall
12.04. UK London – The Forum
14.04. FR Paris – Bataclan
15.04. FR Strasburg – La Laiterie
17.04. ESP Bilbao – Santana 27
18.04. ESP Barcelona – St Jordi Club
19.04. ESP Madrid – La Riviera
21.04. CH Pratteln – Z7
23.04. D Trier – Europa Halle
24.04. D Frankfurt – Batschkapp
25.04. D Düsseldorf – Mitsubishi Electric Halle
26.04. D Bamberg – Brose Arena
28.04. D München – Zenith
30.04. D Leipzig – Haus Auensee
01.05. D Stuttgart – Liederhalle Beethoven Saal
02.05. D Hamburg – O2 Arena
05.05. I Milan – Alcatraz
06.05. I Rome – Atlantico
08.05. GR Thessaloniki – Principal Club
09.05. GR Athens – Gagarin 205
10.05. GR Athens – Gagarin 205
13.05. TR Ankara – Jolly Joker Ankara
14.05. TR Istanbul – KüçükÇiftlik Park
15.05. RO Bucharest – tba
16.05. BG Sofia – UNIVERSIADA HALL
19.05. RS Belgrade – Belexpocentar Beograd.
21.05. SLO Ljubjana – Kino Siska
22.05. AT Graz – Explosiv
23.05. AT Vienna – Gaswerk
24.05. CZ Zlin – Masters of Rock Café
26.05. PL Warsaw – Progresja Music Zone
27.05 D Berlin – Huxley´s Neue Welt
29.05. S Gothenburg – Trädgårn
30.05. S Örebro – Metallsvenskan Festival
31.05. NOR Oslo – Rockefeller
02.06. FIN Helsinki – Nosturi
04.06. RUS St.Petersburg – A2 Club
05.06. RUS Moscow – Ray Just Arena
07.06. RUS Ekaterinburg – Tele Club
09.06. RUS Samara – Metelitsa
11.06. BY Minsk – Republic Club
Sponsor:
[AdSense-A]
---
If you would like to support Antichrist magazine by donation to cover some hosting expenses - that will be more than appreciated!
Latest posts by Oleks Antichrist
(see all)