New York hardcore pioneers AGNOSTIC FRONT have announced the details for the band's upcoming eleventh album, "The American Dream Died".
Commented singer Roger Miret: "We chose this title cause we want to open up people's eyes to what's going on in this country. We have a lot to say. Not everyone realizes that our government and the people who run this country are so corrupt, greedy and ruthless. We need to educate the ones we reach. We're loosing our values.We address real issues from full blown corruption and scandals to unjust police abuse and brutality. Everything's we stood for as a country is going down the drain. But we still somewhat have our freedom of speech. We're expressing it all through this record while we can."
"The American Dream Died" was produced by MADBALL singer Freddy Cricien and engineered, mixed and mastered by Paul Miner (H2O, TERROR) and will be released April 4, 2015 via Nuclear Blast Records.
The record will feature guest appearances by Cricien, Toby Morse (H2O) and Lou Koller (SICK OF IT ALL).
The album will be available as digital download, on vinyl as well as on CD.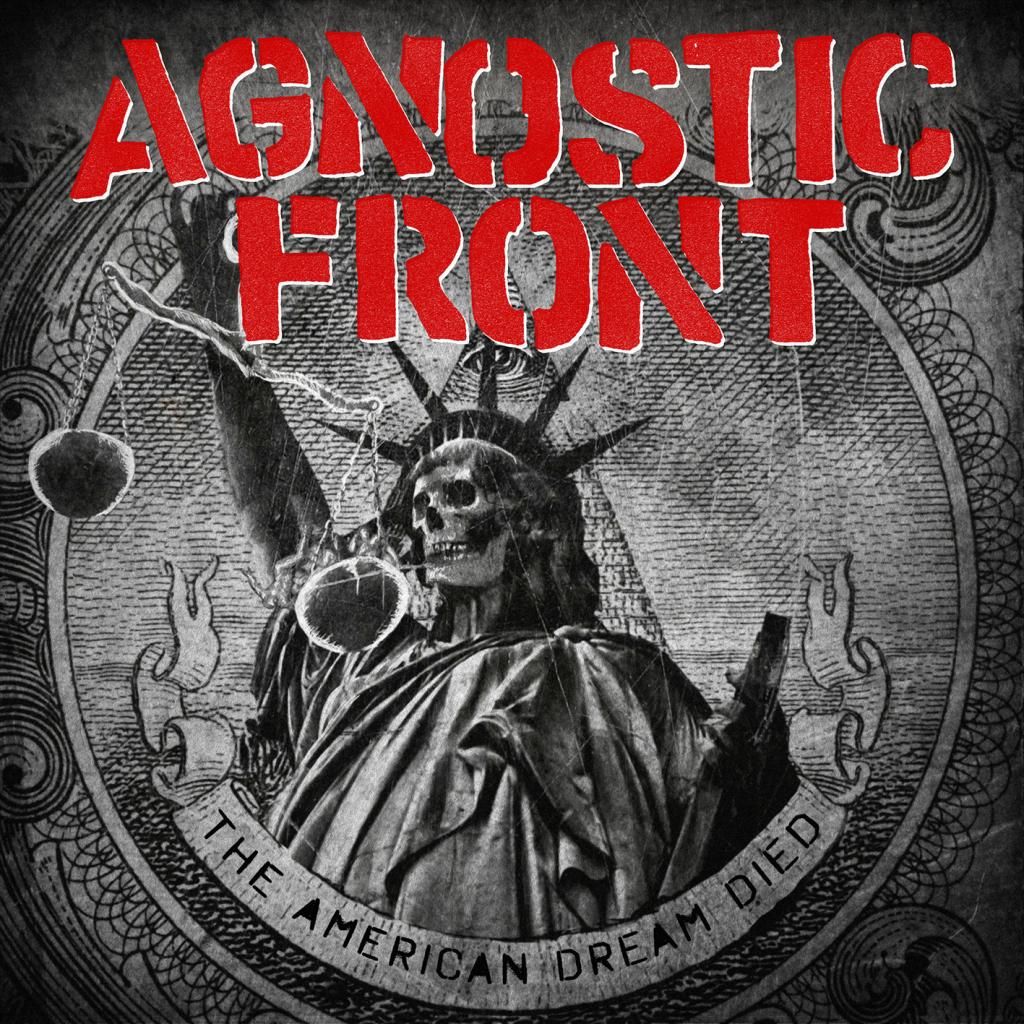 "The American Dream Died" will contain the following tracks:
01. Intro
02. The American Died
03. Police Violence
04. Only In America
05. Test Of Time
06. We Walk The Line
07. Never Walk Alone feat. Freddy Cricien, Toby Morse & Lou Koller
08. Enough Is Enough
09. I Can't Relate
10. Old New York
11. Social Justice
12. Reasonable Doubt
13. No War Fuck You
14. Attack!
15. A Wise Man
16. Just Like Yesterday
AGNOSTIC FRONT live
01.05. Weinheim – Cafe Central (Germany)
02.05. Meerhout – Groezrock Festival (Belgium)
03.05. Bremen – Tower (Germany)
05.05. Gdynia – Alibi (Poland)
06.05. Krakow – Kwadrat (Poland)
07.05.Wroclaw – Ucho (Poland)
09.05. Hildesheim – Halle 39 (Germany)
10.05. Freiburg – Atlantik (Germany)
11.05. Milano – Lo Fi Club (Italy)
12.05. Ciampino (RM) – Orion Live Club (Italy)
13.05. Bologna – Locomotiv Club (Italy)
14.05. Aarau – Kiff (Switzerland)
17.05. Paris – TBA (France)
18.05. Saarbrücken – Garage (Germany)
19.05. Berlin – SO36 (Germany)
21.05. Arnhem – Willemeen (Netherlands)
22.05. Oberhausen – Ruhrpott Rodeo (Germany)
27.06. Montabaur – Mair 1 Festival (Germany)
07.04. Roitzschjora – With Full Force Festival (Germany)
18.07. Dour – Dour Festival (Belgium)
Sponsors:
[AdSense-A]
#####
If you really would like to support Antichrist, you can just Share our article.
You can also support Antichrist by sending a couple bucks to cover some webhosting expenses.

[ad 1]