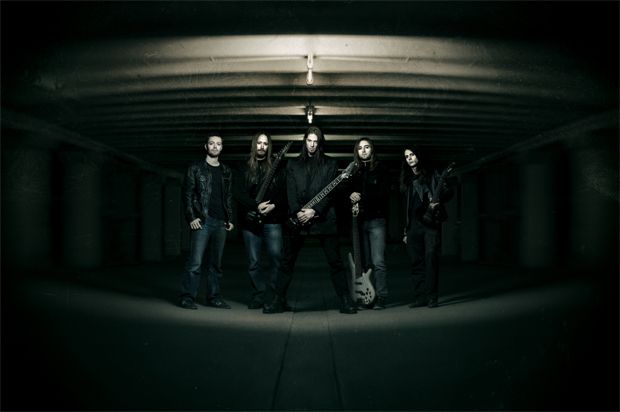 New progressive metal supergroup Alkaloid, featuring singer Morean (Dark Fortress, Noneuclid), drummer Hannes Grossmann (Blotted Science, ex-Obscura, ex-Necrophagist), guitarists Christian Muenzner (Spawn of Possession, ex-Obscura, ex-Necrophagist) and Danny Tunker (Aborted, ex-God Dethroned), and bassist Linus Klausenitzer (Obscura, Noneuclid), have announced an Indiegogo crowdfunding campaign in support of the band's upcoming debut album "The Malkuth Grimoire." The album is due in spring 2015.
Alkaloid is a band that is defined through the field of tension created between the musical opposites. The band merges extreme metal and other more diverse music genres into a unique style that most people will find familiar, but haven't heard yet.
The band members are well-known and are active in some of the leading death metal bands today, but they all have a much broader view of music than just blastbeats and growls. From the beginning, Alkaloid tends to show multifaceted approach to the music, oscillating between stylistically diverse segments.
"The music we write with Alkaloid is very diverse, it's radical, new, and it's very progressive. Music labels want music that they can label," Hannes Grossman says in a video about their choice of starting the crowdfunding campaign.
Alkaloid offer great exclusives for everyone who donates and helps the band to reach the goal that would help them to release "The Malkuth Grimoire" next year. Donate here.
Alkaloid online:
https://www.facebook.com/alkaloid.metal
http://www.youtube.com/channel/UCzJ77qBrJ1pgShY9Zj3xhAg
#####
If you really would like to support Antichrist, you can just Share our article.
You can also support Antichrist by sending a couple bucks to cover some webhosting expenses. =>>
PayPal