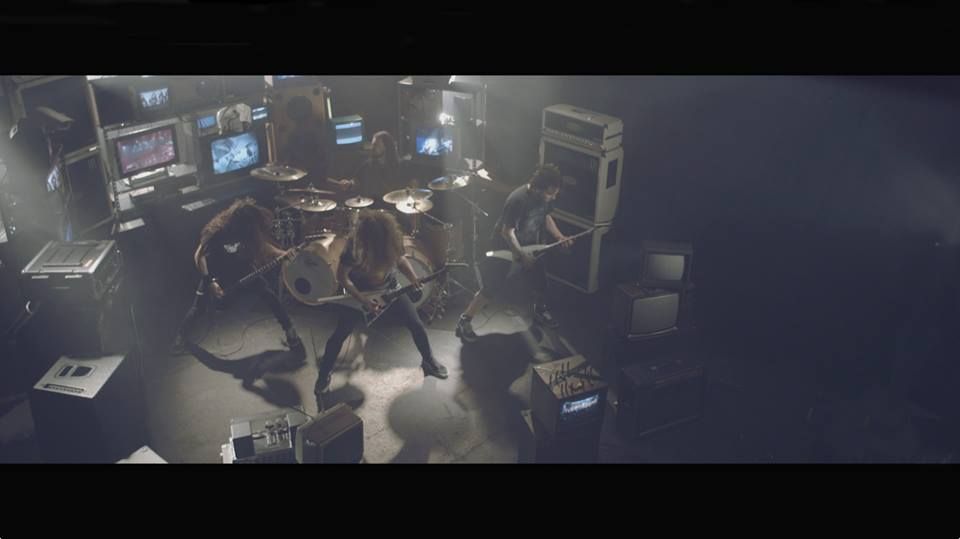 The release of the upcoming 5th studio album by Spanish Thrash Metallers ANGELUS APATRIDA is drawing nearer: "Hidden Evolution" will be released on January 19th, 2015 via Century Media Records and therefor the band is now launching the album's first promotio9nal video clip for the song "End Man".
Check it out here:
The clip was directed by Adriana Lorente and Sara Cort, who already worked with ANGELUS APATRIDA on their previews clips for "You Are Next" and "Blast Off", and the band commented about it as follows:
"Behind the meaning of "End Man" lies the desperation of someone who has reached the limit, on the verge of exploding. Going though certain tough situations in life creates inner demons that sometimes show when least expected. That feeling of stressing intensity is present during the whole song, only letting loose when choruses appear. Adriana and Sara have once again done an amazing work adapting the concept of the song to a video by melting the meaning of this track to the inner general concept of the album and its artwork, based around the astronaut with such an amazing and super detailed result"
The artwork for "Hidden Evolution" was handled by Gyula Havancsák / Hjules.com, who has also decorated album sleeves for bands such as Annihilator, Destruction, Stratovarius, Grave Digger or also Nightingale. The standard tracklisting for the album, which was once again recorded in Moita, Portugal at Ultrasound Studio with producer Daniel Cardoso (Anneke Van Giersbergen, Anathema, etc.), reads as follows:
ANGELUS APATRIDA – "Hidden Evolution":
1. Immortal
2. First World Of Terror
3. Architects
4. Tug Of War
5. Serpents On Parade
6. Wanderers Forever
7. End Man
8. Speed Of Light
9. I Owe You Nothing
10. Hidden Evolution
The song "Speed Of Light" will feature a lead guitar guest appearance by Chris Amott (Armageddon, ex Arch Enemy).
"Hidden Evolution" will be released as special edition CD with an O-card packaging in its initial pressing, featuring a cover version of Deep Purple's "Highway Star" as bonus. The 180gr. vinyl LP version will come with the entire album on CD as bonus and is available on black wax, but also as limited coloured editions in white (100x copies, via CM Distro USA) and light blue (200x copies, via CM Distro Europe). European pre-orders will start next week via CM Distro here: www.cmdistro.de
Check out the previously launched "Hidden Evolution" album teaser here:
ANGELUS APATRIDA have made an entertaining series of videos with footage from the album recording sessions which can be watched here:
Video #1, drums
Video #2, guitars
Video #3, bass
Video #4, vocals & solos
ANGELUS APATRIDA's latest studio album release, "The Call", entered the charts in Spain at a stellar # 14 spot upon release in 2012 and is still available as special CD version with slipcase packaging with two bonus tracks and also as LP on 180gr. on black, golden or blue vinyl. A split 7″ EP with 3 Inches Of Blood (Featuring ANGELUS APATRIDA's "Killer Instinct" and a cover version of Judas Priest's "Hell Patrol") and the recent "Evil Unleashed / Give 'Em War" 2CD re-release set of the band's first two albums featuring a total of 37-tracks (!) can also be ordered via CM's online shop. Check out all available ANGELUS APATRIDA items here: smarturl.it/angelusapatridaCMD
ANGELUS APATRIDA live:
20.12.2014 Zaragoza (Spain) – Sala Casa Del Loco
26.12.2014 Bilbao (Spain) – Sala Sonora
22.01.2015 Madrid (Spain) – Sala Penelope * Album release show!
23.01.2015 Barcelona (Spain) – Sala Bóveda * Album release show!
24.01.2015 Valencia (Spain) – Sala Rock City * Album release show!
SUICIDAL ANGELS, DR. LIVING DEAD!, ANGELUS APATRIDA:
11.02.2015 Aachen (Germany) – Musikbunker
12.02.2015 Breda (The Netherlands) – Mezz
13.02.2015 Aarschot (Belgium) – De Klinker
14.02.2015 Essen (Germany) – Turock
15.02.2015 Leeuwarden (The Netherlands) – Romein
16.02.2015 Osnabrück (Germany) – Bastard Club
17.02.2015 Hamburg (Germany) – Marx
18.02.2015 Berlin (Germany) – K17
19.02.2015 Warsaw (Poland) – Progresja
20.02.2015 Cracow (Poland) – Fabryka
21.02.2015 Zlin (Czech Republic) – Masters Of Rock Cafe
22.02.2015 Vienna (Austria) – Viper Room
24.02.2015 Kosice (Slovakia) – Colloseum Club
25.02.2015 Budapest (Hungary) – Durer Kert
26.02.2015 Ljubljana (Slovenia) – Orto Bar
27.02.2015 Sarajevo (Bosnia And Herzegovina) – Club Sloga
28.02.2015 Beograd (Serbia) – Dom Omladine
01.03.2015 Zagreb (Croatia) – TBA
03.03.2015 Bratislava (Slovakia) – TBA
04.03.2015 Graz (Austria) – TBA
05.03.2015 Milano (Italy) – Blue Rose Saloon
06.03.2015 München (Germany) – Backstage – Halle
07.03.2015 Lenzburg (Switzerland) – Met Bar
08.03.2015 Toulouse (France) – TBA
10.03.2015 Barcelona (Spain) – Razz2
11.03.2015 Murcia (Spain) – Garaje
12.03.2015 Madrid (Spain) – Shoko
14.03.2015 Nice (France) – Alterax
15.03.3015 Paris (France) – Glazart
17.03.2015 Weinheim (Germany) – Cafe Zentral
18.03.2015 Aalen (Germany) – Rock it
19.03.2015 Dornbirn (Austria) – TBA
20.03.2015 Nürnberg (Germany) – TBA
21.03.2015 Leipzig (Germany) – Hellraiser
22.03.2015 Köln (Germany) – MTC
ANGELUS APATRIDA online:
www.facebook.com/angelusapatrida
#####
If you really would like to support Antichrist, you can just Share our article.
You can also support Antichrist by sending a couple bucks to cover some webhosting expenses.