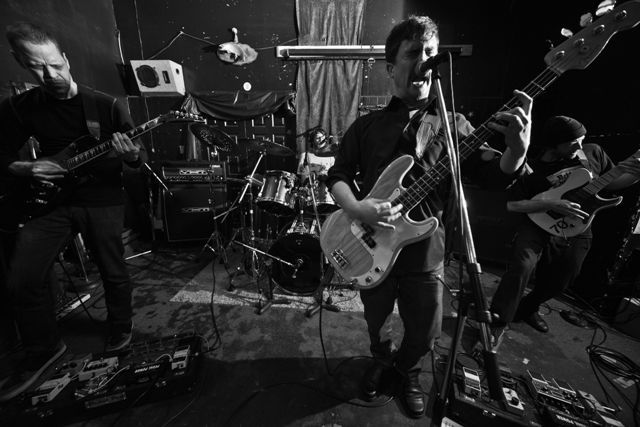 In the aftermath of the release of their debut album, Psychogenic Atrophy, Oakland's avant-garde thrash manglers, DIMESLAND, has begun the task of bringing their arduously technical riffology to metal-seekers across the lands with their scorching live intensity.
Performances local to DIMESLAND's Bay Area region are currently being confirmed piecemeal, including a hometown show this Friday, January 23rd alongside Mutant Supremecy, Apocryphon and Negative Vortex. In addition to further area shows in the works, the band will branch out on random mini-missions throughout the West Coast US through the coming months, and then later this year, will raid a wider range of cities, with plans for a more widespread Western US Fall invasion in its infant stages of planning.
DIMESLAND Live:
1/23/2015 The Golden Bull – Oakland, CA w/ Mutant Supremacy, Apocryphon, Negative Vortex
The follow-up to their acclaimed 2012-released debut Creepmoon EP, DIMESLAND's masterfully mad sci-fi/avant thrash yanks listeners into even an even more demented vortex with their debut album, Psychogenic Atrophy. With forty minutes of riveting and forward-thinking metal elementally comparable to Voivod, Gorguts, Loincloth, Deathspell Omega and Portal, Psychogenic Atrophy was recorded in full analog courtesy of Justin Weis at Trakworx in South San Francisco (Ludicra, Cormorant, Slough Feg). Independently released by the band in December, Psychogenic Atrophy is available through most major digital music retailers including BandCamp (below) and iTunes. CD and LP versions of the album will be released in the coming months.
"… a dizzying fret-tapped intro heralds a maze of riffs that sound like '80s Metallica being sucked through a black hole. You could lose yourself in these contorted chords for days, but the jaw-clenching impact hits you on the first listen." – Stereogum 
"…DIMESLAND is the sonic nightmare of thrash. They're a band that blends the instrumental ability of the nerdiest tech-bands around with the prog/jazz guitar stabs of Dimension Hatross-era Voivod… These songs drive me up the damn wall and I can't get enough of it. The organic sound courtesy of Justin Weis somehow adds to the schizophrenic insanity at hand. This is home-brewed chaos right here." – Invisible Oranges 
"…DIMESLAND are one of those bands struck by a lack of clear identity, what they play cannot be categorized in simple terms, but they are of a standard that this renders their classification moot. Who cares what they might be labeled when it chews you up and spits you out with such ferocity?" – Ninehertz 
"…one of the coolest things about the album is the anticipation that comes with unraveling the layers. Already an exciting, quirky band, DIMESLAND gives the impression that they will only grow and expand with time. Psychogenic Atrophy gives us a ton to pick apart as we wait for the next stop on their wacky ride. Buckle up." – Last Rites
http://www.facebook.com/DIMESLAND
Sponsors:
[AdSense-A]
#####
If you really would like to support Antichrist, you can just Share our article.
You can also support Antichrist by sending a couple bucks to cover some webhosting expenses. =>>
PayPal
[ad 1]