Please introduce yourself.
We are Empyrean Throne, a clandestine black metal order from the USA, currently working on our first full length album.
When your band was created?
We were formed in late 2011.
What the style do you play?
Symphonic Black Metal
How could you describe your music by several words?
The voice of the great under current of Chaos that both binds and tears at the very fabric of the universe.
What is the main theme of your lyrics?
Chaos, Lovecraft literature, Exploration into the unknown, warfare, corruption, and dark fantasy
What would you like to achieve with the band activity?
We hope to share our message and music with the world.
How many gigs you have played so far and maybe you visit another countries with concerts?
We have have had an active live campaign since 2012. A few notable artists we have performed with are Cattle Decapitation, Aborted, Panzerfaust, Abigail Williams, Kataklysm, and Shallows Fall
Is there anything very important about your band what SHOULD know fans and labels?
If we understand the question correctly, We of Empyrean Throne deliver not just an average live show, but an experience. We have an elaborate stage setup but it is all part of our goal which is to journey into the chaos and chaotics energies of the world and use them to take the audience on a journey.
What the formats you would like to see your releases, CD, Vinyl, Tape…? And how do you see future of physical releases?
We have physical and digital copies of our EP. We would like to do vinyl someday.
When you will get label deal, would you like to help to the label with promotion from your side, or you want label do all without your help?
We would like to have a positive relationship with any label we sign to, both for us as the artists and them as them as the label. We would only sign to a label if it is a positive step for both parties. It would depend on what the label would be offering in the first place. We will have to see.
What's your reaction towards negative opinions about your music?
Some people don't understand what we are trying to do, we don't care. They are entitled to their opinion.
And last question, how do you like our webzine, do you have some remarks towards its look or functionality?
You have a very nice webzine that supports local/underground artists. We did a summer sampler with you last year. Keep up the great work.
Into Chaos. Toward the Beyond. Ever Vigilant.
https://www.facebook.com/empyreanthrone
#####
If you really would like to support Antichrist, you can just Share our article.
You can also support Antichrist by sending a couple bucks to cover some webhosting expenses. =>>
PayPal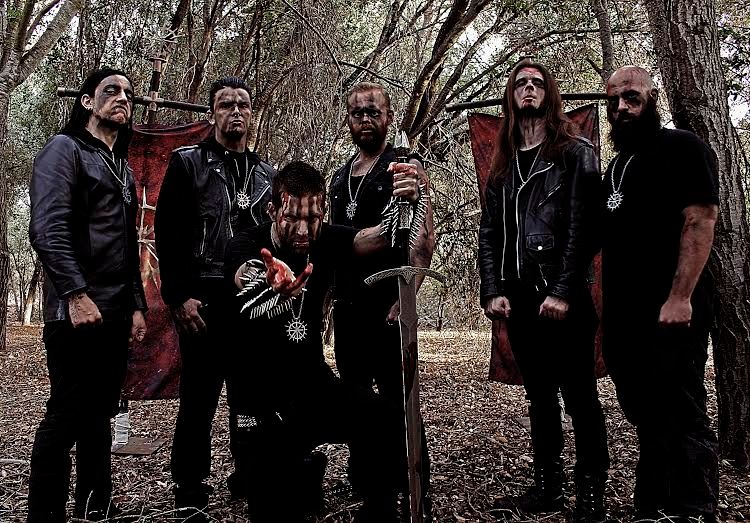 Empyrean Throne is a clandestine black metal order hailing from Lake Forest California, hellbent on spreading their gospel to the far corners of the world.