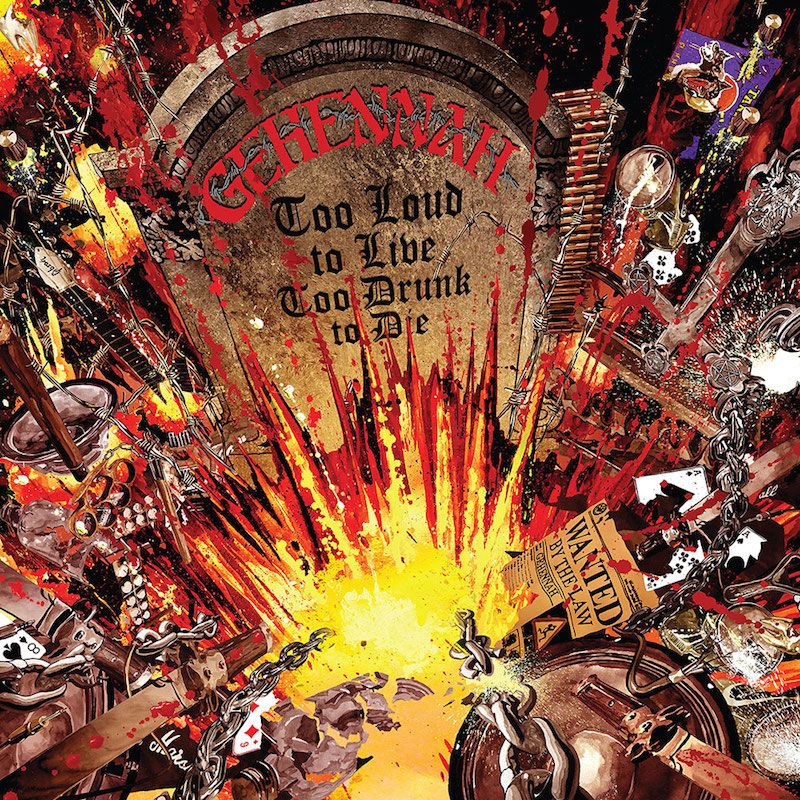 GEHENNAH
Too Loud to Live, Too Drunk To Die
Metal Blade
'Cause we're a street metal band, you poser
Live life like a fucking bulldozer
Yeah, we're a street metal band, pretty boy
Put on this Earth only to destroy!!!'
Gehennah are back! 19 years after the last full-length 'Decibel Rebel', the cult band from Forshaga, reborn from the ashes with the fourth album of their career. A career far from any spotlight, marked by an uncompromising street attitude, mixed with a great dose of irony and love for booze, women and drugs.
19 years after, Gehennah did not change anything. They are still rude, dirty, loud, dumb and nostalgic for a sound that owes everything to the 80's, overall to Venom, Bathory, Motorhead and every band that in these days of revival keep high the tradition of black/thrash/speed metal.
Short and simple songs, without any virtuosity, but powerful, fun and with a lot of awesome choruses that are destined to be nailed in your mind, like the titletrack, 'Life Metal Must Die', 'Scumbag', 'Cause We're a Street Metal Band', and 'Low On Cash, High on Speed'. The great drumming of Hellcop gives a lot of variation to the songs, like the guitar of Rob Stringburner that refined his technique mixing wisely rock-punks riffs to more aggressive and fast metal parts.
The lyrics vomited by Mr. Violence (with a deeper growl that we used to rembember) are still about their deranged life, made by booze, filth, fights and beating poser just like 20 years ago, with that sense of proud and entertainment that just few band can have.
So what are you waiting for? Gehennah are back!
'We should be long gone but we just won't go away
Deserve to be killed for the way we behave
But we'll stick around 'til we can't piss on your grave
We're too loud to live, too drunk to die'
#####
If you really would like to support Antichrist, you can just Share our article.
You can also support Antichrist by sending a couple bucks to cover some webhosting expenses. =>>
PayPal