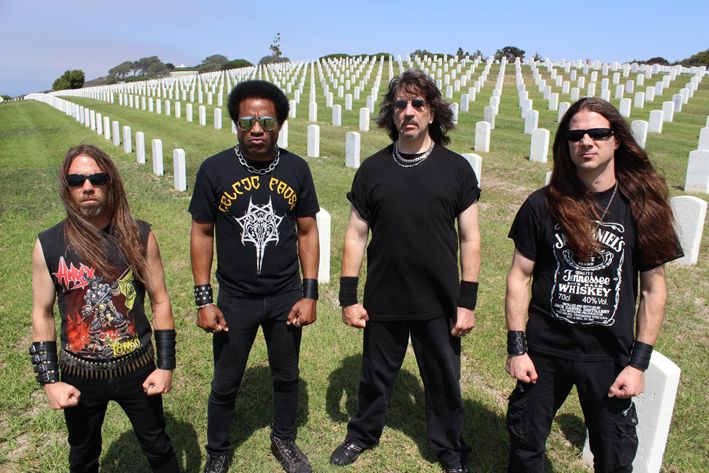 Legendary Thrash Metal Act HIRAX release a new video for the song "Hellion Rising" from their latest album "Immortal Legacy".
You can see the video here:
HIRAX vocalist Katon W. De Pena comments on the making of their new music video for "Hellion Rising" from the album "Immortal Legacy":
"The new HIRAX video "Hellion Rising" is a visual thrash metal experience. We filmed on location in the historic Battery Bunkers built in 1942 hidden in the hills of San Pedro, California. This is our second video directed and produced by Donovan Vim Crony. The scenery is the perfect backdrop for HIRAX's brand of intense thrash metal. No green scenes, fake production or props were used in the making of this high definition video / film. The release will coincide with the announcement of our upcoming European tour / concert dates 2015. We are very excited to hit the road again and play our music for all the die hard, European, thrash metal maniacs!"
HIRAX European Tour Dates 2015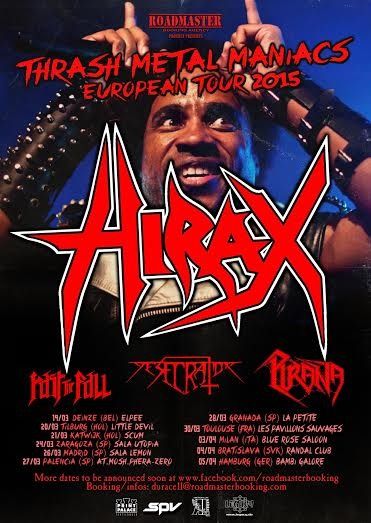 13.03. UK-Gwynedd – Hammerfest Festival
14.03. UK-Glasgow – Ivory Blacks
15.03. UK-Birmingham – Asylum 2
16.03. UK-Manchester – Sound Control
17.03. UK-Winchester – Railway Inn
18.03. UK-London – Black Heart Camden
19.03. B-Deinze – Elpee
20.03. NL-Tilburg – Little Devil
21.03. NL-Katwijk – Scum
24.03. E-Zaragoza – Sala Utopia
26.03. E-Madrid – Sala Lemon
27.03. E-Palencia – At Mosh Phera Zero
28.03. E-Granada – La Petite
30.03. F-Toulouse – Les Pavillions Sauvages
03.04. I-Milan – Blue Rose Saloon
04.04. SVK-Bratislava – Randal Club
05.04. D-Hamburg – Bambi Galore
09.07. CZ-Trutnov – Obscene Extreme Festival
10.07. PL-Zori – Ozi Pub
11.07. PL-Gdynia – Atlantic Club
12.07. PL-Szczecin – Slowianin Club
13.07. PL-Warsaw – Progressja
14.07. D-Berlin – SO36
16.07. SVK-Kosice – Colliseum Club
17.07. CZ-Pohori – Agressive Fest
18.07. D-Balingen – Bang Your Head Festival
19.07. D-Egelsee – Schwarzer Adler
20.07. CH-Olton – Coq d`Or
21.07. SLO-Tolmin – Metal Days Festival
22.07. A-Dornbirn – Conrad Sohm
23.07. D-Kassel – K19
24.07. D-Brande/Hörnerkirchen – Headbangers Open Air
25.07. NL-Steenwijk – Stonehenge Festival
26.07. B-Ostend – JH Ohk
The latest studio album "Immortal Legacy" is out now worldwide as CD, LP and download through SPV/Steamhammer.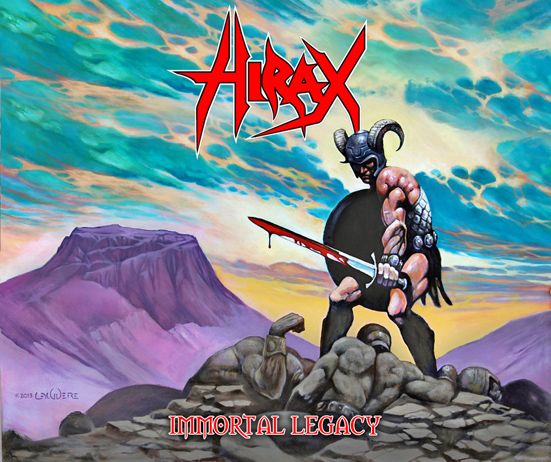 https://www.facebook.com/hiraxthrashmetal
https://www.facebook.com/steamhammerofficial
#####
If you really would like to support Antichrist, you can just Share our article.
You can also support Antichrist by sending a couple bucks to cover some webhosting expenses. =>>
PayPal