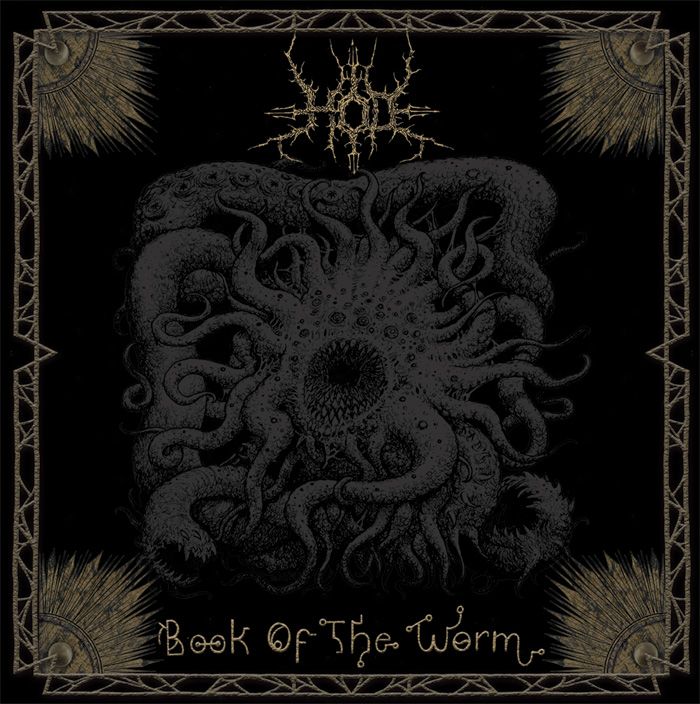 San Antonio blackened death horde, HOD, is pleased to officially induct bassist, ZVS Gastelum, into their infernal ranks. Gastelum comes by way of Texas black metal legion, Plutonian Shore, as well as Gnostic and replaced longtime HOD comrade, Robert "Trans AM" Coleman.
Comments the band, "Changes suck but sometimes they have to happen. After many years of service and brotherhood our brother Robert 'Trans AM' Coleman is no longer in HOD. TA will be missed for sure. We hope he gets everything he wants with his current projects and future endeavors. Best of luck to you, brother! We would also like to welcome ZVS Gastelum. ZVS had been filling in on bass while TA was out with Goatwhore, and did a great job. So the choice to bring ZVS into the fold was an easy one to make. ZVS fronts his own band Plutonian Shore, and brings with him many years of live experience. The guy will crush your skull! We are stoked to get out on the road with this demon and unleash hell!"
In related HOD developments, the band will bring their bestial hymns to the stage of the 5th Quarter Lounge in Indianapolis tonight with Carpathian Funeral followed by a performance in Chicago the following evening. HOD will also devour New Orleans and Miami in the coming weeks with additional live invasions in the plotting stages.
HOD:
1/23/2015 5th Quarter Lounge – Indianapolis, IN w/ Carpathian Funeral, Ptahil, more
1/24/2015 Cobra Lounge- Chicago, IL w/ Carpathian Funeral, Imperial Savagery, more
3/20/2015 Siberia – New Orleans, LA
3/21/2015 Churchill's Pub – Miami, FL w/ Kult Ov Azazel, Solstice, Druid Lord, more
HOD released their Book Of The Worm full-length last Fall via Arctic Music. Named in honor of the Norse figure known as "the blind god," a son of Odin, HOD persecutes the believers of more traditional religious beliefs with a relentless, kingdom-toppling brew of blackened death fans of Angel Corpse, early Morbid Angel, Deströyer 666, Von, Bloody Sign and other dealers of the evil arts won't hesitate to burn a stack of bibles to. Produced by Dennis Munoz (Solstice) and featuring artwork by Jon Zig (Averse Sefira, Deeds of Flesh, Pyrexia), Book Of The Worm is HOD's first full-length since 2009's Ibex Moon-released Serpent, amidst several smaller releases, delivering their most catastrophic material to date.
"With potent songcraft and an upswing in career momentum, Book Of The Worm at long last establishes HOD as a beacon in the blackened thrash underground. – Metal Injection
"A hybrid of black and death metal, HOD are a ferocious live band with a huge stage presence loaded with jean jackets, spikes and bulletbelts, headbanging, and lots of PBR tall cans. Book Of The Wormis much in the same vein with a delivery similar to that of Deströyer 666. 4/5″ – About.com
"If life is truly nasty, brutish, and short, HOD remains that aphorism made ripping flesh and dripping blood." – Austin Chronicle
"Full of fire and low on mercy, Book Of The Worm is a breakneck listening experience." – Dead Rhetoric
"A smorgasbord of riffs and double bass destruction." – Metal Underground
"… this five-piece attacks with as much Napalm Death as Dark Funeral. Sure, there's Scandinavian influence dripping off of the riffs like the mold dripping off of that towel you've had in front of your shower for the past month, but the rhythm section is straight outta wherever the fuck grindcore comes from." – Last Rites
http://www.facebook.com/pages/Hod/118127951554999?ref=ts&fref=ts
http://www.facebook.com/arcticmusicextreme
Sponsors:
[AdSense-A]
[ad 1]
#####
If you really would like to support Antichrist, you can just Share our article.
You can also support Antichrist by sending a couple bucks to cover some webhosting expenses.