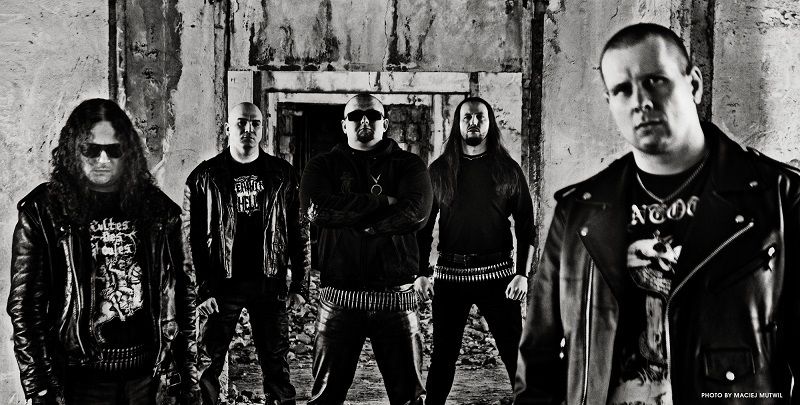 After revealing the new album cover in December, Polish extreme black/death metal beasts INFERNAL WAR have unveiled further details on their long-awaited 3rd studio instalment entitled "Axiom". Featuring 11 new tracks, the release will be launched on April 17th in Europe and April 21st in North America via Agonia Records.
"Axiom" was recorded, mixed and mastered in No Solace Studio with M. (Mgła/Kriegsmaschine), who also guest appears on the album on vocals. The 11 new songs on "Axiom" clock in at around 42 minutes. The album cover was created by Mentalporn.
Tracklist:
I. Coronation
II. Militant Hate Church
III. Into Dead Soil
IV. Paradygmat
V. Nihil Prayer
VI. The Parallel Darkness
VII. Transfigure
VIII. Eater Of Hope
IX. Camp 22
X. No Forgiveness
XI. Axiom
On the new material, the band commented: "Axiom is the essence of Infernal War. At the same time, it's not a copy of our previous works. The new material is more mature, diversified and bloody uncompromising. It's very grim, both musically and lyrically. We have no doubt, that Axiom is our crowning achievement".
"Axiom" will be available in slipcase CD, 12″ gatefold LP with booklet, limited to 150 hand-numbered copies silver vinyl, limited to 300 hand-numbered copies 12″ die-cut picture LP with booklet and digitally.
Line-up:
Herr Warcrimer – vocals
Zyklon – guitars
Triumphator – guitars
Godcrusher – bass
Stormblast – drums
https://www.facebook.com/infernalwarofficial
https://facebook.com/agoniarecords
#####
If you really would like to support Antichrist, you can just Share our article.
You can also support Antichrist by sending a couple bucks to cover some webhosting expenses.