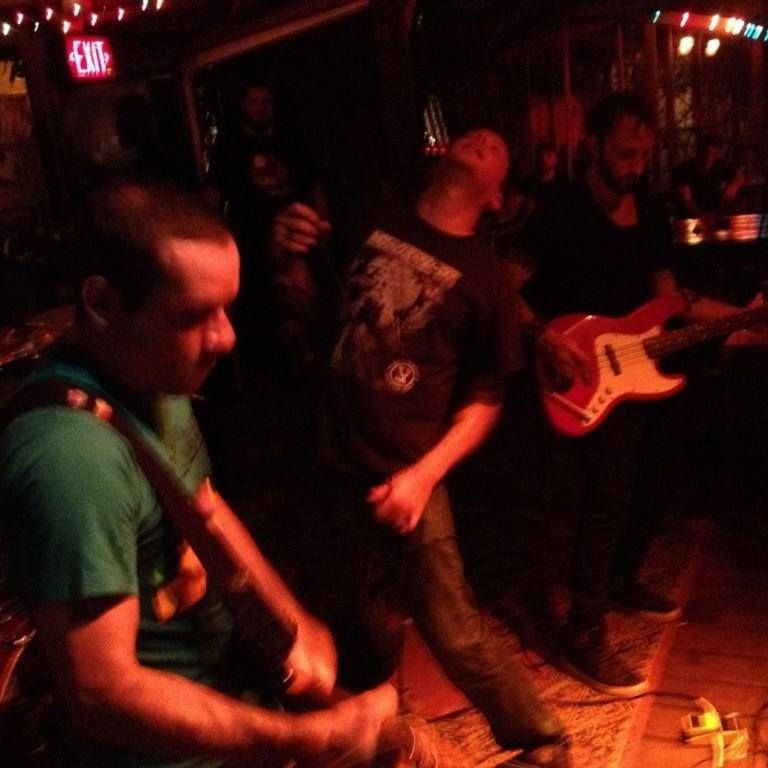 Magic Bullet Records will take responsibility for the dirty job of handling the release of the scum-laden debut LP from, MEATWOUND, an act collecting individuals who have done or are currently doing time with Combatwoundedveteran, Holy Mountain, Headless Dogs, Primate Research and more throughout the Floridian peninsula over the past two decades or so.
Dangerous and hardcore as shit, a thundering concoction of 1990s influences overthrow the MEATWOUND sound; a gutter where the pentatonic, industrialized elements of crushers Fudge Tunnel and Godflesh meet a sordid death metal edge meshing Sepultura and Exit-13, in the same place throbbing Big Black-style hardcore punk is infiltrated by a scuzzy sci-fi The Locust-ish elements, while an expected aggro hardcorish/punked vibe in the realm of many of the other acts the MEATWOUND members hail from surging through it all.
MEATWOUND's debut LP, Addio was recorded with Dan Byer at Rock Garden Recording in St. Petersburg, Florida, mastered by Dan Randall at Mammoth Sound, and bears artwork by Chris Norris [Steak Mtn.]. Magic Bullet will discharge the beast digitally and on LP in the first quarter of 2015, with final pressing and street date details to be confirmed in the days ahead.
The MEATWOUND posse will support Municipal Waste, Torche and Nightbird at the Tampa gig of their current tour, raiding the Crowbar in Tampa on July 20th. More live actions from MEATWOUNDare imminent.
Addio Track Listing:
Side A
In Toilet
Goliath
Funeral State
Side B
Hand of God
Meat Pack
I Am Transgressor
MEATWOUND Live:
1/20/2015 Crowbar – Tampa, FL w/ Municipal Waste, Torche, Night Birds
Last year, playing with his current act, Primate Research, vocalist Dan caught drummer Ross and guitarist Ari slaying instrumental jams at a house, and an instant pact of filth was formed, after which the trio found themselves intoxicated at an off-the-grid location in regular jamming sessions. Shortly thereafter, Mariano was sanctioned for the bass research. The vocalist issues, "I asked Mariano to play bass. He had been playing guitar for twenty-five or more years but never played bass; I'm not smart enough to play bass and sing, so I asked him if he wanted to do the shit we were doing, which was Sepultura meets Jesus Lizard, and he jumped in. We wrote three more songs and recorded this 12″. Anything goes. No rules, no boredom, lots of recreational debauchery… a lifestyle upgrade."
MEATWOUND fashioned their new anthems under a unified regimen of decadence in a place where, as the band depicts it: "According to news reports, Florida is a human wasteland that doesn't give a shit about laws or decency. It is a swamp ridden cesspool of crime, drugs, carnies, and mutation. We have contributed much asshole culture and music to the world. Tampa specifically, has given the children Assück, Scrog, Death, Morbid Angel, Deicide, Obituary, Reversal of Man, Combatwoundedveteran, Nasty Savage and more. Seputura and Napalm Death came to record here. Cannibal Corpse moved here to live. The Brass Mug is here. Morrisound is here. There are no rules. We are ugly and primitive and short in the attention span. So, as old men, MEATWOUND comes from all that steaming shit pot of geographical music waste and the sounds of our collective childhoods. We grew up in the late 80s/early 90s on the first Earache bands, the first Relapse records, Tampa death metal, Public Enemy, Dischord shit, Steve Albini rampages, Wax Trax, Crass Records, drugs, skateboarding, horror movies, the usual."
MEATWOUND:
Ari – guitar/jungle tongues
Dan – vocals/Aryan infiltration
Mariano – bass/island violence
Ross – drums/financing
http://www.facebook.com/MEATWOUND
http://www.facebook.com/magicbulletrecords
Sponsor:
[AdSense-A]
#####
If you really would like to support Antichrist, you can just Share our article.
You can also support Antichrist by sending a couple bucks to cover some webhosting expenses. =>>
PayPal