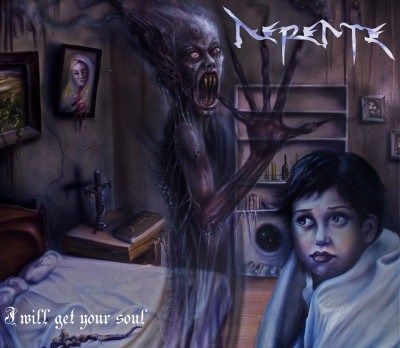 Colombian Death/Black Metallers NEPENTE will release I Will Get Your Soul March 31 on Cimmerian Shade Recordings. And this time the temperature surpasses face-melting levels!
I Will Get Your Soul follows sophomore full-length Suffering is the Seed (MetalHit 2012/Sonic Blast Media 2013), an album The RingMaster Review called "a savage and sonically scurrilous violation, a torment of corrosive intensity and unbridled devastation" and Teeth of the Divine described as "one hell of a vicious cyclone."
I Will Get Your Soul was recorded at Manizales Studio (Manizales Colombia), and mixed/mastered at Hertz Recording Studio (Bialystock, Poland) by Slawomir Wieslawski and Wojciech Wieslawski.
Track list:
1. I Will Get Your Soul
2. Show me that You are Suffering
3. Gray Land
4. Last Rites
All music by Pablo Vasquez.
All lyrics by jose Fernando Ospina C.
Additional rhythm and lead guitars by Victor Hugo "Tormento"
Cover art by Leonardo Duarte Enciso.
Album layout/design: Leoonardo Xiomara Valencia
Nepente logo by Julian Carddona
NEPENTE Bio
2002: Blackened Death Metal band Nepente was founded in Manizales (Colombia) by José Fernando Ospina (Vocals), Mauricio Aristizábal (Drums), Wilmar Correa (Bass), Esteban Daza (Guitar) and Juan Pablo Buitrago (Guitar). The band played their first shows with some of the most well known bands in the Colombian metal scene at that moment: Masacre, Luciferian and Twilight Glimmer..
2005: Recording of the EP Ascension in El Pez Studios in Medellín (Colombia). In order to support this record the band did a tour in their home country.
2006: The band concentrated on writing songs for their first full-length and obtain a contact to appear on two compilation CDs of the labels Metabolic Records and Metal War Productions in the United States.
2007: Nepente opened shows for the Norwegian band Ancient in Pereira city and played some headlining shows in other Colombian's cities. Later in that year the band signed a contract for their first album with the American metal label Metabolic Records.
2008: Metabolic Records releases the album Atonements, mixed and mastered by Jean Francois Dagenais (Kataklysm guitarist and producer of albums of Kataklysm, Malevolent Creation, Ex Deo, etc.) in his J.F.D. Studios in Canada. Nepente open for Greek Black Metal band Rotting Christ in their home town Manizales.
2009: The band had their first tour of Ecuador and Perú and get the opportunity to open American metal legend Omen in Lima Peru. Later, the band makes their first official video clip of the song Procession. Guitarist Juan Pablo Buitrago leaves the band.
2010: Nepente played with well-known Brazilian Death Metal band Krisiun on their Colombian tour. Guitarist Pablo Vasquez joins the band.
2011: The band continues the writing process for their forthcoming album and plays a show with the influential black metal band Inquisition.
2012: The band enters in Ethylic Studios to record their second full-length. It is mixed and mastered in the famous Polish studios Hertz Recording Studio (Vader, Hate, Behemoth, Decapitated, Bessatt). Suffering Is The Seed was originally released independently and then through Metalhit in digital format and as a CD with Sonic Blast Media in February 2013.
NEPENTE is presently working as a quartet:
Willmar Correa: Bass
Mauricio Aristizabal: Drums
Pablo Vasquez: Guitars
José F. Ospina: Vocals
https://www.facebook.com/nepente.metal
https://www.facebook.com/CimmerianShadeRecordings
#####
If you really would like to support Antichrist, you can just Share our article.
You can also support Antichrist by sending a couple bucks to cover some webhosting expenses. =>>
PayPal