ANOMALIE "Visions"
Art Of Propaganda
To have a cohesive sound when combining numerous elements takes special attention to detail and that is just what Anomalie has done with their effort titled "Visions". Each song is filled with many different elements that are sewn together with expertise which creates a wholly unique, intriguing and highly memorable listen. Anomalie creates a sound that is atmospheric, melancholic, biting, heavy, harsh, cold and overall gripping to the point where you end up getting lost all together in the music. It is very easy to lose your way in "Visions" as it grips you right from the get go never to let you go until the final sullen note has been played.
Anomalie has a great knack for creating a sound that is both pleasing to the ear and yet harsh all at the same time and that balance within this record is very important. One minute you will be bombarded by abyssal black metal and the next you are sitting listening to wondrous and melancholic acoustic passages. Anomalie never sits upon one style with "Visions" as it is all changing nearly every minute of the album. You never know what you are getting from song to song and that is yet another element that just makes listening to "Visions" so enthralling and unique and ultimately you just can't seem to stop listening.
Each song tends to wrap you up in a dark, melancholic and dreary atmosphere that is very potent. Once you begin listening it surrounds you nearly immediately and from then on you find yourself in the middle of a dense biting fog that you can't soon find your way out of. Even as dark as the atmosphere is it is all very inviting and you feel more and more inclined to stay within this fog the more that you listen. While listening to "Visions" you get taken through wondrous soundscapes and atmospheres where your mind freely wanders. "Visions" does a great job of taking a hold of you and holding you captive for the duration of the record and even when it's all over you don't really want it to be.
There is so much that is wrapped into the seven songs that are provided for you that you can listen over and over again and find something new each time. And since there is so much that is wrapped all into this record that is where the long run times come in. It gives Anomalie enough time to spread their wings and show what they really are made of and what they have to offer and what they have to offer is quite a bit. Everything that Anomalie does in this record is spot on and nothing is out of place. Each song is very well crafted and executed and "Visions" makes for one monolithic and one fuck of a listen.
In conclusion, "Visions" is a great record that really provides you with so much more content than you really could ask for or want in an album. Even though the run times are quite long you end up forgetting about that right away as you just listen with even more intrigue and eagerness with each rotation that it gets.
#####
Support your favorite magazine by donation to cover some webhosting expenses - that will be more than appreciated!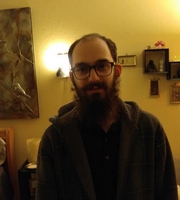 Latest posts by Jared Harrison
(see all)