Finnish heavy psych rockers Seremonia dive deeper than ever into the dark psychedelic abyss with their third album Kristalliarkki, set for international release on May 8th  via Svart Records. With lyrics (still all in their native tongue) revolving around the spiritual cult practices and teachings of a mysterious doomsday cult, Kristalliarkki (English: "The Crystal Ark") also explores the cultist mindset musically. The heavy riffing, the psychedelic solos, the out-of-control drum fills, the blood-chilling vocal delivery, and the collective free rock freak-outs all go way beyond just playing good ol' heavy rock: Seremonia is a band on a sacred mission, possessed by the black flame of rock 'n' roll. Kristalliarkki bears their trademark garage doom sound and catchy riffage, and adds an abundance of acid rock experimentalism, proto-punk anger, sacred music bliss, and even some cosmic jazz flavors in the 15-minute title track of the album. It's a hard-rocking hard rock record, but a wonderfully weird one – even by Seremonia's weirdo standards. Cover and tracklisting are as follows: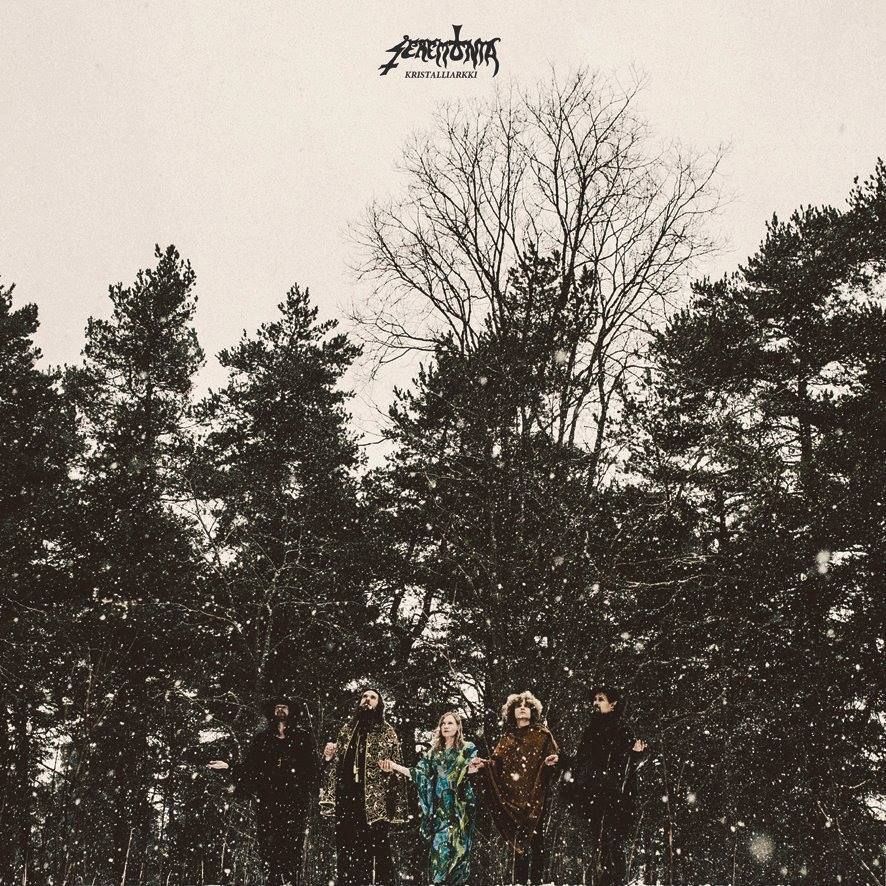 Tracklisting for Seremonia's Kristalliarkki
1. Vihkimys
2. Alfa ja Omega
3. Tee mitä tahdot
4. Musta liekki
5. Lusiferin lapset
6. Vapauden polku
7. Kuolema voittaa
8. Jokainen askel
9. Kristalliarkki I
10. Kristalliarkki II
Seremonia is a five-piece band from Finland, playing heavy psychedelic rock and singing in their native language, Finnish. Their eponymous debut album was released by Svart Records in 2012 and received critical acclaim across the world. Since then, the band has played their creepy brand of psych rock in very different venues, be it small punk rock dives or bigger festivals like Finland's Tuska, Denmark's Heavy Days in Doomtown, Sweden's Muskelrock, or Holland's Roadburn. Both on acclaimed albums and ferocious live shows, Seremonia's original take on the genre has earned them a good name amongst the global community of psych rock lovers.
Seremonia discography:
Rock'n'rollin maailma / Nämä kesäiset päivät 7″ (2012 Svart)
Seremonia LP/CD (2012 Svart)
Ovi / Vastaus rukouksiisi 7″ (2013 Svart)
Ihminen LP/CD (2013 Svart)
Hasiskultti / Hulluus 7" (2015 Svart)
Kristalliarkki LP/CD (2015 Svart)
#####
If you really would like to support Antichrist, you can just Share our article.
You can also support Antichrist by sending a couple bucks to cover some webhosting expenses. =>>
PayPal