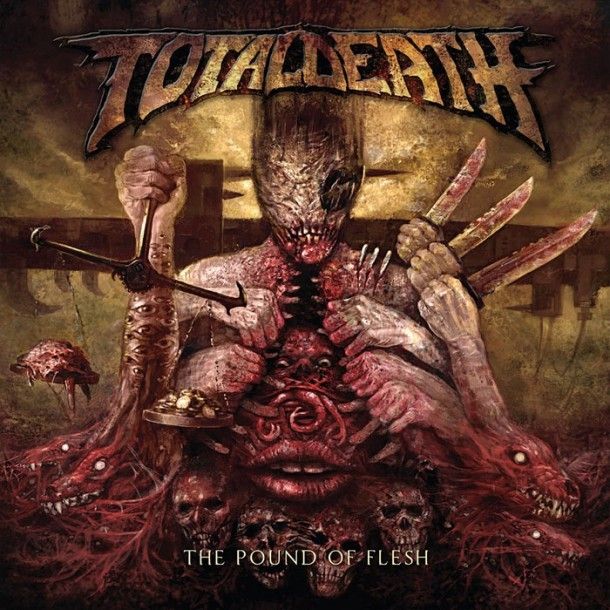 Total Death "The Pound of Flesh"
Punishment 18 Records
Before I begin with reviewing this album I want to take time and marvel at the gruesome album cover. What an amazing cover album with a lot of details to it. A truly disgusting work of art!!! Total Death is a thrash/death metal band from Italy and "The Pound of Flesh" is their second release. The production of the album is outstanding, that it feels like the instruments are brutally stabbing you while listening to this record. Most of the songs are mid tempo and catchy as hell!!! The riffs in the songs are just insane and I will try to put in words how insane the riffs are. Imagine you are tied up to a chair and someone is slowly cutting you up with a knife (yup that is the best way to describe it). The vocals are raw with a light touch of death metal growling that makes the vocals sounds dirty in a good way. The drumming syncs nicely during the songs and goes from simple to brutal filled with blast beats. Also upon careful listening to the record you noticed that the songs have a lot of technicality worked in them. In way Total Death mixed technical death metal with thrash and the end result is "The Pound Of Flesh".  This is a solid record and I can't find anything wrong on "The Pound of Flesh". I can guarantee you that this record will slam you to the ground !!!
89/100
(c) Rottendamned
#####
If you really would like to support Antichrist, you can just Share our article.
You can also support Antichrist by sending a couple bucks to cover some webhosting expenses. =>>
PayPal