VULTURE INDUSTRIES will be joining ARCTURUS for a string of European shows this May. The progressive metal meeting will hit the road in Brescia, Italy at the Circolo Colony on the 2nd of May and continue through France, the UK and the Netherlands before finishing in Paris at Divan du Monde on May 10th.
The band comments:
"Having a great time sharing stage with Arcturus in Finland we are thrilled to join up with them once more", says frontman Bjørnar Erevik Nilsen. "Not to forget our friends in France and the Netherlands, but adding to the excitement is the fact that it has been a while since we did any shows in UK and Italy. It is high time for a return!"
Please see below for a list of all tour-dates.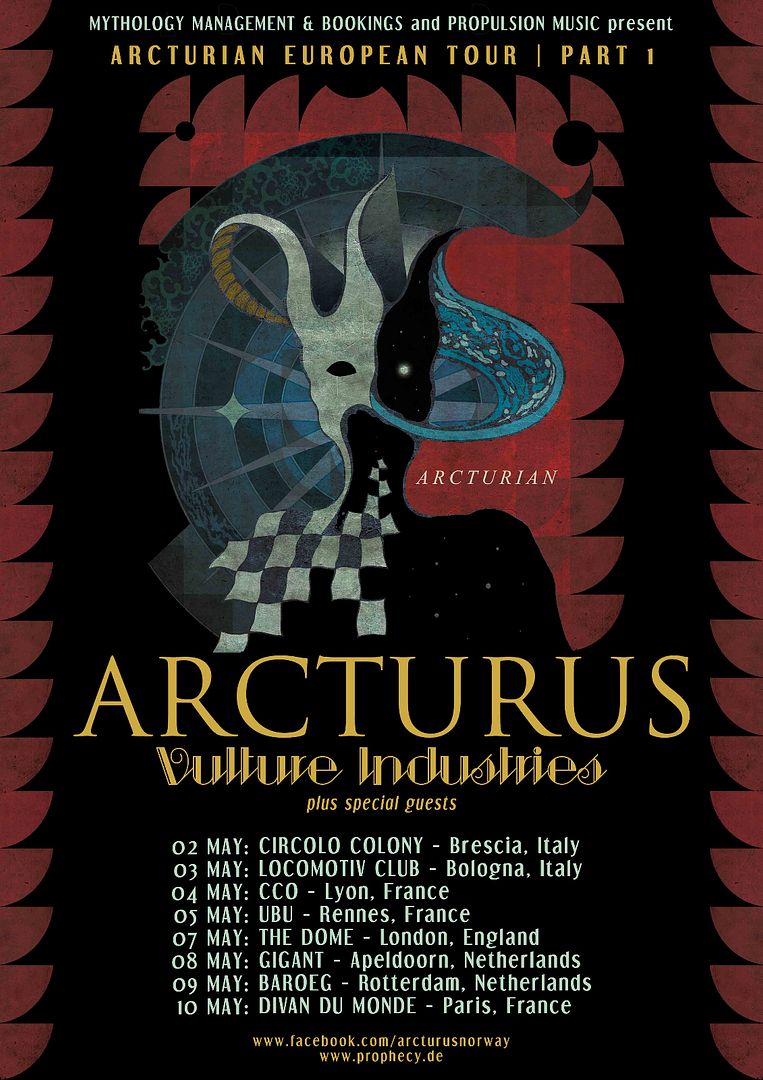 02 May 15 Brescia (IT) Circolo Colony
03 May 15 Bologna (IT) Locomotiv Club
04 May 15 Lyon (FR) CCO
05 May 15 Rennes (FR) Ubu
07 May 15 London (UK) The Dome
08 May 15 Apeldoorn (NL) Gigant
09 May 15 Rotterdam (NL) Baroeg
10 May 15 Paris (FR) Divan du Monde
VULTURE INDUSTRIES have previously announced further dates. The Norwegians will perform a special show "The Babylon Spiral" with their visual artist COSTIN CHIOREANU in Oslo (NO) on the 2nd of April as part of the Inferno Festival at Kulturhuset. Their progressive metal brothers in spirit, VIRUS will also play. Special signed and designed paper tickets for this event are available directly from the band.
Two concerts in Spain have also been added to the band's roster. The avantgarde-metallers will share stages with progressive supergroup SOEN on April 3rd at Razzmatazz 2 in Barcelona and one day later at the Caracol in Madrid. A list of all other upcoming dates can be viewed below:
02 Apr 15 Oslo (NO) Kulturhuset (Inferno Festival show with Costin Chioreanu)
03 Apr 15 Barcelona (ES) Razzmatazz 2 (+Soen)
04 Apr 15 Madrid (ES) Caracol (+Soen)
14 Aug 15 Rasnov (RO) Rockstadt Extreme Fest
24 Oct 15 Volosyanka (UA) Carpathian Alliance
Line-up
Bjørnar Erevik Nilsen: vocals, keys and improvised percussion
Øvyind Madsen: guitars & backing vocals
Eivind Huse: guitars & backing vocals
Kyrre Teigen: bass & backing vocals
Tor Helge Gjengeda: drums & backing vocals
www.facebook.com/vultureindustries
#####
If you really would like to support Antichrist, you can just Share our article.
You can also support Antichrist by sending a couple bucks to cover some webhosting expenses.