BENIGHTED are still on a rampage through Canada, but already preparing for another brutal death onslaught that will bring the French band to England's shores. The tour kicks of in the London area, in Croydon at the Scream Lounge on the 11th of April and runs through five more crushing shows before a final hit on the Face Bar in Reading on April 17th.
The band comments: "We are very proud and excited to come back to the UK for this leg. We are looking forward to kick ass together with our friends from CANCEROUS WOMB and ABHORRENT DECIMATION, who will join us! We will sure deliver a sick and intense show that our UK fans will not forget soon. Promise! Don't miss this!"
A full list of current and forthcoming BENIGHTED dates can be viewed below.
11 Apr 15 Croydon (UK) Scream Lounge
12 Apr 15 Bristol (UK) The Exchange
13 Apr 15 Liverpool (UK) Magnet
14 Apr 15 Edinburgh (UK) Bannermans
15 Apr 15 Leeds (UK) Temple of Boom
16 Apr 15 Birmingham (UK) The Flapper
17 Apr 15 Reading (UK) Face Bar

05 Mar 15 Ottawa, ON (CA) Cafe Dekcuf
06 Mar 15 Toronto, ON (CA) Rancho Relaxo
07 Mar 15 Sault-Ste-Marie, ON (CA) Odd Fellows Hall
08 Mar 15 Thunder Bay, ON (CA) Crocks
09 Mar 15 Winnipeg, MA (CA) The Zoo
10 Mar 15 Regina, SK (CA) The Clud
11 Mar 15 Calgary, AB (CA) Dickens Pub
12 Mar 15 Vernon, BC (CA) The Green
13 Mar 15 Vancouver, BC (CA) Funky Winker Beans
14 Mar 15 Kamloops, BC (CA) Dirty Jersey
15 Mar 15 Edmonton, AB (CA) DV8
16 Mar 15 Saskatoon, SK (CA) Vangellis
17 Mar 15 Brandon, MA (CA) North Hill Inn
19 Mar 15 Sudbury, ON (CA) Cambrian Theater
20 Mar 15 Rouyn-Noranda, QC (CA) Evolu-Son
21 Mar 15 Trois-Rivières, QC (CA) Trois Rivières Metal Fest
18 Apr 15 Tilburg (NL) – O13 – Neurotic Deathfest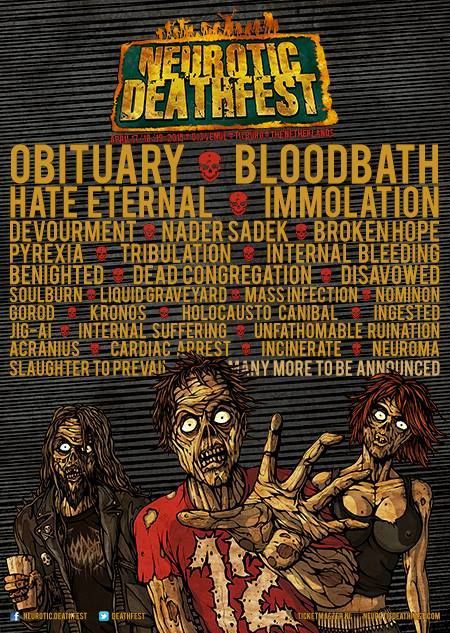 BENIGHTED are touring in support of their live album 'Brutalive the Sick', which was released this February 23rd.
Artwork and tracklist are shown below.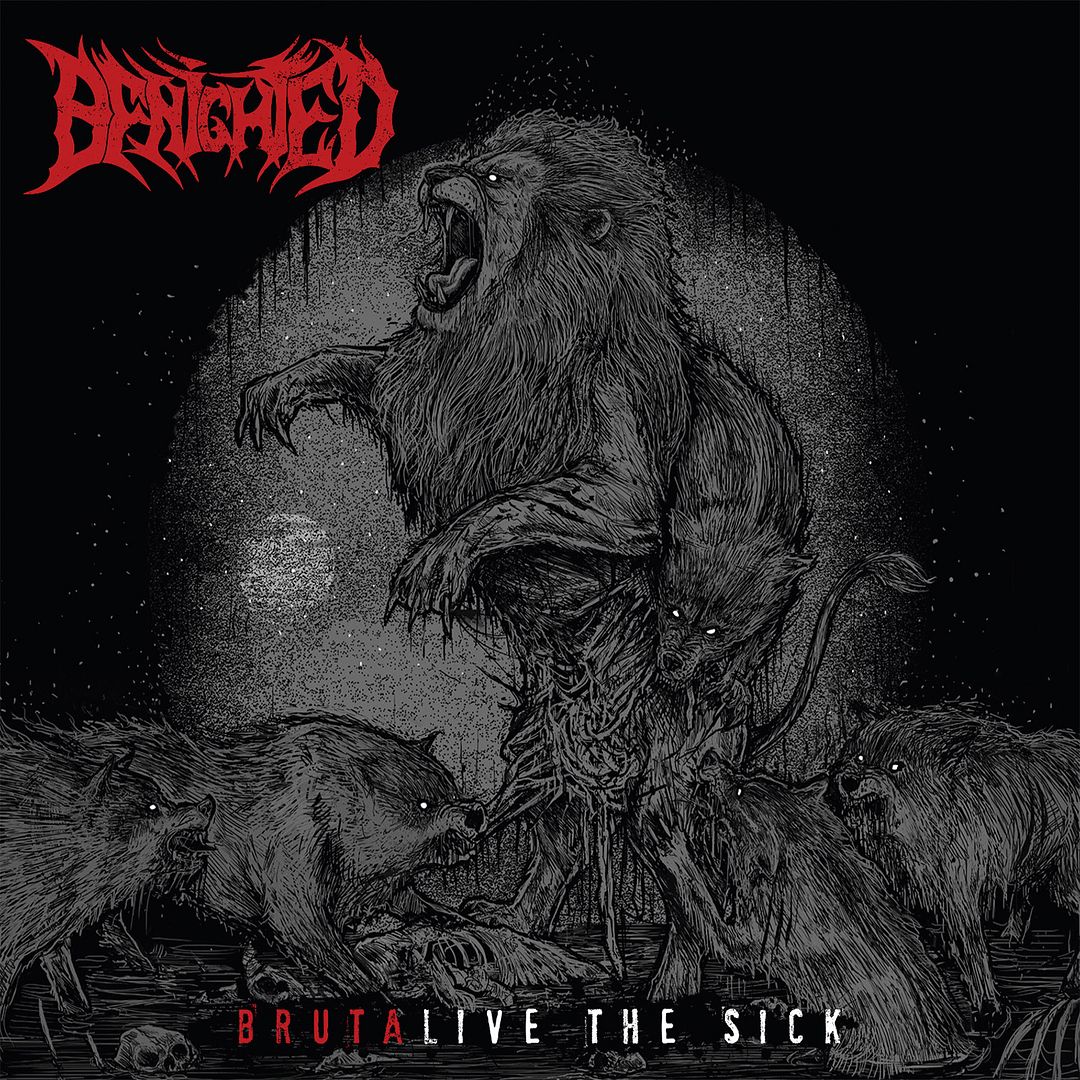 1. X2Y
2. Noise
3. Let the Blood Spill between My Broken Teeth
4. Collapse
5. Experience Your Flesh
6. Carnivore Sublime
7. Prey
8. Grind Wit
9. Fritzl
10. Collection of Dead Portraits
11. Slaughter Suicide
12. Slut
13. Asylum Cave
BENIGHTED commented on their release: "We are happy to announce that for the celebration of our 15th anniversary our first live album 'Brutalive the Sick' will be out soon. The show was recorded at Sylak Open Air 2014 in France. These 13 tracks represent our unleashed fury on stage whipped up by an amazing crowd. We hope this makes for a suitably brutal and insane birthday gift for all of you!"
A teaser clip can be viewed here: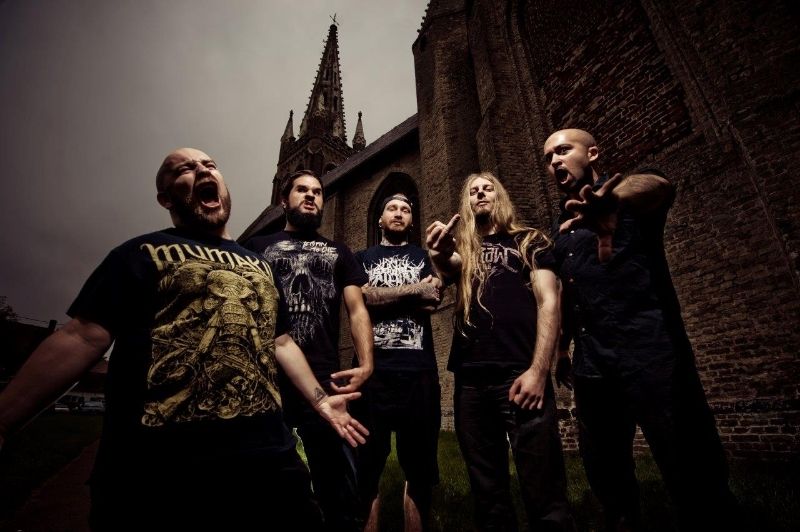 BENIGHTED are celebrating their 15th anniversary of grinding death mastery with the release of a live album with DVD entitled 'Brutalive the Sick'. All songs and images were recorded at the French Sylak Open Air on the 9th of August 2014. The band comments: "We are happy to announce our first live album 'Brutalive the Sick'", state BENIGHTED. "These 13 tracks represent our unleashed fury on stage, whipped up by an amazing crowd. We hope this makes for a suitably brutal and insane birthday gift for all of you!" BENIGHTED have continually set new benchmarks for brutality and viciousness. The listener is heavily beaten into submission by their relentless vocal onslaught, massive riffing, and close-to-inhuman drumming. The brutal death outfit was brought to life by members from the French death and black metal bands DISHUMANIZED, DARKNESS FIRE and OSGILIATH, who joined forces in May 1998 for a more aggressive, heavy and modern way of expression. When their first self-titled and self-produced full-length 'Benighted' hit the streets in the year 2000, it created a strong impact. What had originally started as a side-project soon became the main thing. With every following album their fan-base grew. 'Psychose' (2002), 'Insane Cephalic Production' (2004), 'Identisick' (2006), and 'Icon' (2007) were equally enthusiastically received by adherents and critics alike. BENIGHTED's impact was massively aided by the band's mind-blowing live performances at extensive tours and prestigious international festivals such as Neurotic Death Fest, Hellfest, Summer Breeze, and Inferno Festival among many others. With 'Asylum Cave' (2011) the French cemented their reputation for psychopathic topics as the album was based on a fictional concept of a delusional schizophrenic's obsession with deranged Austrian pervert Joseph Fritzl. The latest masterpiece 'Carnivore Sublime' (2014) dealt with a borderline patient descending into cannibalism. Buckle up for a mega-heavy live ride!
Line-up
Julien Truchan – vocals
Olivier Gabriel – guitar
Kevin Foley – drums
Pierre Arnoux – bass/backing vocals
Emmanuel Dalle – guitars
www.facebook.com/brutalbenighted
#####
If you really would like to support Antichrist, you can just Share our article.
You can also support Antichrist by sending a couple bucks to cover some webhosting expenses.