Almost over – today we present the penultimate illustration.
We will show you all seven illustrations, which you can find in the CD and LP booklet of the upcoming CHAPEL OF DISEASE album "The Mysterious Ways Of Repetitive Art", in weekly intervals. Seven artworks for seven songs, or better let's call them rituals. All artworks are created by Chris of Misanthropic Art. An outstanding, international acting artist. He and the band's guitarists/vocalist Cedric and Laurent wrote down their thoughts about each illustration.
Next week, together with the last illustration, we'll present a second and again outstanding song from the new album.
So, let's continue today with #6 "Life Is But A Burning Being":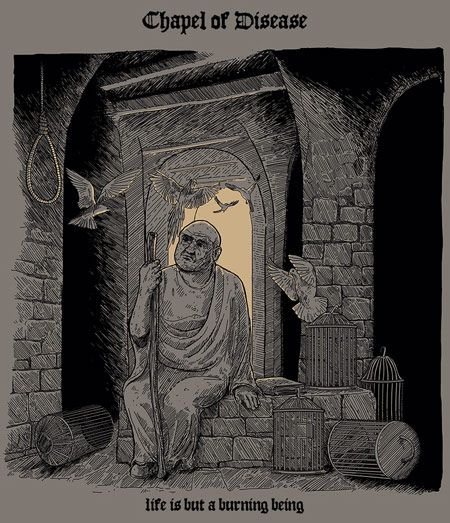 Chris (Misanthropic Art) about the illustration #6 "Life Is But A Burning Being"
"This illustration was kinda tricky. I pictured the catacombs and the open bird cages but couldn't really decide on the appearance of the man which is why it took me awhile and a few sketches to find the most fitting representation. It also was a challenge to draw a almost dark room without missing any details but i think especially with the highlights it really captures the intended atmosphere in the lyrics."
Cedric (Chapel Of Disease) said about it:
"All Sein ist flammend Leid" by Gustav Meyrink is a very solemn short story, which message is very well illustrated in this drawing. The man has lost all desire for life, for it has not given him nothing but despair. And just like the birds he freed from their cages, he is determined to do the same with his soul. All while a certain sentence of an old tibetian book rings in his head."
Front cover and previous work can be checked here – http://antichristmagazine.com/?p=410
#####
If you really would like to support Antichrist, you can just Share our article.
You can also support Antichrist by sending a couple bucks to cover some webhosting expenses. =>>
PayPal