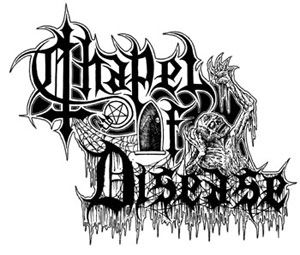 Today with the revealing of the last and seventh illustration we close a chapter to open a new one. We hope you enjoyed all seven artworks which were created by Chris of Misanthropic Art. He and the band's guitarists/vocalist Cedric and Laurent wrote down their thoughts about each illustration. For a complete overview check out: https://www.facebook.com/ChapelOfDisease
In two days we'll unleash a second and again outstanding new song from the upcoming album "The Mysterious Ways Of Repetitive Art". Keep your eyes and ears open!
So, let's finally show you part #7 "…Of Repetitive Art":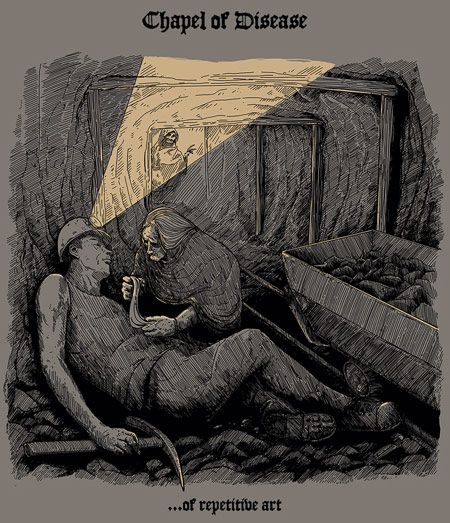 Chris (Misanthropic Art) about the illustration #7 " …Of Repetitive Art"
"This illustration was for me the most significant one because it connects all and closes the circle to the first illustration. Hence it was very important to capture the feeling of the first illustration and transform it into a dark hopeless scenario. I took a lot of inspiration from old german "Ruhrpott" mining pictures and tried to make it feel authentic but with a touch of mystery."
Laurent (Chapel Of Disease) said about it:
" …And a new start will mark its end, as oppositions I do not know…A Song that is based on J.P. Hebels "Unverhofftes Wiedersehen", where the structure of the actual music is trying to capture Hebels narrative structure, which in this case is, very simply said, quite amazing… Many thoughts connected with this album and especially the second half of its title are linked to this single story, where time is overrided and oppositions are to be the same…"
Front cover:
"The Mysterious Ways Of Repetitive Art" will be released on January 16th, 2015 through FDA Rekotz (CD,LP and Download).The new self-produced and recorded Album was mixed by Mersus of The Underworld Studios (Erazor, Attic, Gospel Of The Horns etc.) and mastered by Erkan Tatoglu at Midas'in Kulakligi Studios in Ankara (Turkey).
The album was currently praised as the "Album of the month" in ROCK HARD Magazine (GER) and reached position 2 in the soundcheck of DEAF FOREVER Magazine (GER)!
Tracklist:
01 – The Mysterious Ways…
02 – The Dreaming Of The Flame
03 – Masquerade In Red
04 – Lord Of All Death
05 – Symbolic Realms
06 – Life Is But A Burning Being
07 – …Of Repetitive Art
Next shows:
30.01.15 – Rhein In Blood XXI – Album release show
07.03.15 – Hell Over Hammaburg
26.-28.06.15 – Protzen Open Air
Also coming up in January 2015, beside the new album: A second vinyl edition of the band's debut "Summoning Black Gods".
https://www.facebook.com/ChapelOfDisease
#####
If you really would like to support Antichrist, you can just Share our article.
You can also support Antichrist by sending a couple bucks to cover some webhosting expenses. =>>
PayPal