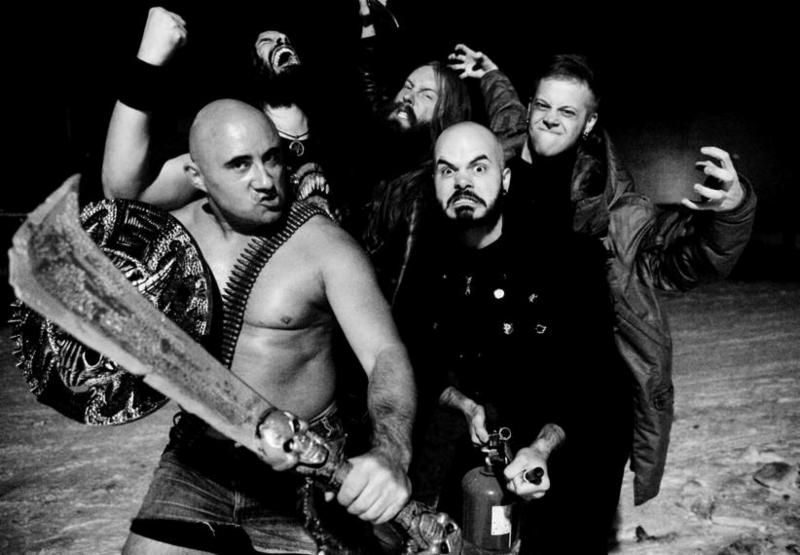 Twin Cities mosh purveyors, IN DEFENCE, have just wrapped up the mayhem-infiltrated recording process of the act's fourth full-length for unveiling by mid-2015, and being the road hounds they are, have already booked a full Southern US tour in advance of its release.
With a pile of independent splits, EPs and singles, compilation appearances, and three previous LPs already on the slab, the fourth IN DEFENCE LP — the follow-up to their 2011-released Profane Existence full-length, Party Lines And Politics — was recorded in recent weeks at Signaturetone Studios in Minneapolis, with Joel Grind from Toxic Holocaust handling mixing and producing duties. Additional details on the album, including its title, release date and label destination, will be announced in early 2015 amidst heavy bouts of touring.
While no additional details on the upcoming album are available as of yet, IN DEFENCE will be taking their "Fuck that shit; circle pit!" mentality to the Southern half of the US on a nearly month-long tour, running from February 1st through the 24th. The full itinerary is below with the final clubs being locked down as this info hits the airwaves. Stand by for much more on IN DEFENCE in the coming days.
IN DEFENCE has proven themselves as a diehard annihilation squad in just over eight years as a band, the name backed by an imposing recording resume and untamable fascination with on-stage mayhem. Having formed as a more straightforward hardcore act in Minnesota's Minneapolis-St. Paul sector in 2006, the quartet's volatile brew quickly decayed into more of a thrash-inspired crossover attack, the sound they've dominated in the studio and live ever since. While steadily pushing for positive societal change and unity, their methodology is heavily party and satire-infiltrated versus taking a preacher's stance with their views. Bringing together headbangers and punks to circle pit in unity, IN DEFENCE has crossed the US multiple times a year, having toured and/or shared the stage with The Casualties, Toxic Holocaust, MDC, DRI, Cro-Mags, Goatwhore, Skeletonwitch, Danzig, Municipal Waste among countless others, in addition to having toured in Puerto Rico and fourteen countries in Europe.
While new tunes are on the horizon, get slammed by IN DEFENCE's previously released videos:
IN DEFENCE Southern US Tour 2015:
2/0120/15 Minnehaha Free Space – Minneapolis, MN
2/02/2015 Memory Lanes – Minneapolis, MN
2/03/2015 Underground Rock Shop – Des Moines, IA
2/04/2014 Vandals – Kansas City, MO
2/05/2015 The Conservatory – Oklahoma City, OK
2/06/2015 Three Links – Dallas, TX
2/07/2015 TBA – Austin, TX
2/08/2015 Limelight – San Antonio, TX
2/09/2015 Fitzgeralds – Houston, TX
2/10/2015 Siberia – New Orleans, LA
2/11/2015 Handlebar – Pensacola, FL
2/12/2015 TV Land – Tallahassee, FL
2/13/2015 Fubar Downtown – Tampa, FL
2/14/2015 Shantytown – Jacksonville, FL
2/15/2015 Churchills – Miami, FL
2/16/2015 TBA – St. Augustine, FL
2/17/2015 Uncle Lou's Entertainment Hall – Orlando, FL
2/18/2015 (A) Space – Gainesville, FL
2/19/2015 The Guild Hall – Savannah, GA
2/20/2015 Poison Lawn – Knoxville, TN
2/21/2015 Tower 2 – Nashville, TN
2/22/2015 The Demo – St. Louis, MO
2/23/2015 Peste De Merde – Columbia, MO
2/24/2015 The Health Club – Omaha, NE
http://www.facebook.com/InDefencepunx
Sponsor:
[AdSense-A]
#####
If you really would like to support Antichrist, you can just Share our article.
You can also support Antichrist by sending a couple bucks to cover some webhosting expenses. =>>
PayPal